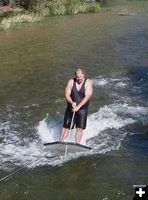 Surfin' Pinedale

John Paravicini catches the water under the bridge at Harmony Crossing. "River planking" is a simple solution to the too-cold waters of Fremont Lake. Photo courtesy of Cheryl Essington.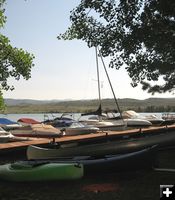 Row, Sail, Motor Your Boat ...

Dock space and lawn space taken up by boats, Lakeside Lodge at Fremont Lake is teeming with avid water sportsmen already. The waiting list for a slot at the lodge is about six deep this year.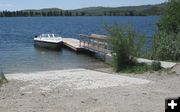 Half Moon Lake Launch

The boat ramp at Half Moon Lake is the only serviceable dock on the lake, making the smaller lake not only warmer, but less crowded.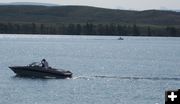 First ride of the season

While one boat drifts in the distance, another takes off from the lower boat docks at Fremont Lake July 2, finally ready to take the plunge.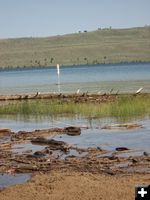 What Beach?

This patch of grass typically lies about 10 feet from the water's edge at Sandy Beach, but until water levels drop, it remains a soggy beach.


Cold water, but few cold feet
by Casey Dean, Pinedale Online!
July 4, 2008

The last snow this year (if we're lucky) came just ten days before the summer solstice and unofficial first day of summer, but not before boats hit the water.

After a flurry June 9, temperatures above 65 degrees Fahrenheit finally stuck starting about June 13. That week, locals broke out short-sleeved shirts and shorts and a brave few headed to the water with ski boats or beach towels.

But a dedicated few didn't wait for the snow to stop. Longtime local waterskier Craig Sheppard said his son, Wyatt, hit the waves just before Memorial Day weekend in May - a month before summer's entrance and barely a week after Pinedale Boat Club's barrel melted from the ice and reached the shore May 19.

Valerie Werbelow, University of Wyoming senior, said nothing beats wakeboarding on cold water – except falling in warm water.

"With the cold water, there's less friction, so there's less pull on your wakeboard," she said. "So it feels smoother."

Boats of all types start filling the slots at Lakeside Lodge when the water is still nearly-ice cold. Ken Hartwig, of Lakeside Lodge on Fremont Lake, said slots have been filled since late May.

"Most years, we put in just as soon as absolutely possible," said local John Paravicini of Jason Essington's sailboat, Karma. "If there's a clear way to the marina, then we're in." Karma has been on Fremont Lake for over a month now.

Last weekend, hardcore players like Wyatt and Karma had to start sharing with the more patient boaters as the weather reached prime conditions.

"It was the perfect weekend, but the water's still cold," Sheppard said. "It's always cold."

He said tolerance for the frigid waters of the glacier-fed lake varies between locals and tourists.

"At about 50 degrees it's almost bearable – at least for me, anyways," he said.

Paravicini said his minimum in a sailboat is, "Liquid. As opposed to solid."

Temperatures this week in Fremont Lake are still sub-50, but some people just can't wait to get a start on the short season, which may be even shorter than the past few years. Sheppard said the lake is warming up slower than it has in the recent years, but that 2008's timing isn't too far off the long-term average.

Quietly warming faster than Fremont, just a few miles to the north, lies Half Moon Lake. Boaters and waders in the know have turned to the smaller, typically warmer option. Liz Quealy, who lives near the lake, said the water is already into the low 50s and has been visited by numerous boats.

"We've seen one waterskier out, and that was last weekend," she said.

Though Half Moon Lake Resort is closed for the season, and the road to that lake can be rough and narrow, there is a convenient parking lot and boat ramp to access the water. Quealy expects to see a considerable increase in boat traffic this Fourth of July weekend.

The holiday is almost here, and forecasts are calling for highs in the mid-80s all weekend. Sandy Beach on Fremont Lake will be a hot spot for sandy sandwiches and sunscreen, but will still be a size small.

"Right now there's just a lot of high water and everybody's just waiting for the water to go down," Hartwig said. When it does, the beach will be host to bigger bathing crowds willing to put up with the perpetually chilly waters of Fremont Lake. Unless of course, they're in a sailboat, at Half Moon Lake or playing in Pine Creek at the Town Park.

Still refusing to jump into Fremont Lake, Paravicini opted instead to spend an afternoon at Harmony Crossing in the Town Park.

"It was incredibly refreshing," he said. Last weekend, he and his friends tied a plywood board under the bridge and "river planked" – surfed the current. The water had warmed considerably after leaving the Fremont Lake outlet.

"It wasn't frigid, and it wasn't warm by any means, but it felt good on a hot Sunday afternoon," he said - a statement true of any water sport in the heat of a Pinedale summer.

Photos by Casey Dean