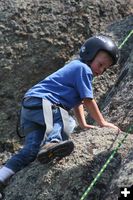 Colt

Colt looks down to see how far he has climbed.


PAC Climbing Camp
by Pam McCulloch
June 26, 2008

The Pinedale Aquatic Center is holding several different camps this summer. This last week they hosted a climbing camp.

The junior climbers practiced all week on the indoor climbing wall in the aquatic center. On Thursday and Friday they headed to the Boulder Lake area to test their skills on some real rocks.

PAC Recreation Coordinator, Michael Peters, and his assistant, Jason Burton, lead the rock climbing camp.

Photos by Pam McCulloch, Pinedale Online!