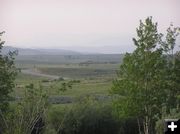 Where are the Winds?

Bob Rule took this photo Thursday afternoon showing the hazy sky. This photo is looking at the Wind River Range (obscured) about a mile north of Pinedale.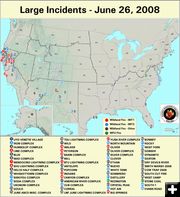 Large Fires

Large Fire Map for Thursday, June 26, 2008.


Fires in the West create hazy skies
by National Interagency Fire Center (NIFC)
June 26, 2008

Ten new large fires were reported yesterday in Alaska, Arizona, California, Georgia, New Mexico, and Texas. The situation in California continues to escalate where 34 fires have burned more than one-quarter million acres. Large fires in Arizona, California, and New Mexico have forced the evacuation of residences in several communities. As fire managers try to get a handle on all the fires, they are also preparing for critical weather events forecast for the next couple days.

The U.S. Forest Service and CAL FIRE have opened a "Joint Information Center" (JIC) in northern California to provide fire information and a big picture summary of the current fire situation. The JIC will be available 24 hours a day until conditions change. Local fire public information centers are still available where citizens can get specific fire information details and updates.

Four MAFFS C-130 air tankers have been requested in support of the State of California in Chico, California. Two aircraft from the 145th Airlift Wing, Charlotte, North Carolina are operational. Two C-130 MAFFS units from the 302nd Airlift Wing, Colorado Springs CO have been requested to be operational Wednesday, June 25. The Mission Commander is LTC Roger Williams, 145th Air Wing, North Carolina.

States with fires:

Alaska (1)
Arizona (8)
California (34)
Florida (1)
Georgia (1)
New Mexico (3)
North Carolina (1)
Texas (4)
Virginia (2)
__________________________
Fire danger is currently LOW on the Bridger-Teton National Forest. No wildfires are currently reported in Wyoming.




Related Links