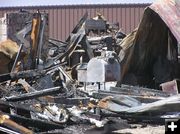 Debris

Photo by Bob Rule, KPIN 101.1 FM.



Scroll down for more photos.


Fire destroys Rocky Mountain Home Center
Furniture store in Pinedale
by Dawn Ballou, Pinedale Online!
Original post June 30, 2008 | Updated Friday, July 4, 2008

A fire broke out at Rocky Mountain Home Center in Pinedale early Saturday morning, June 28, totally destroying the building and contents. The store was located at 1552 Hwy 191 west of Pinedale. They sold furniture, carpet, flooring, beds and mattresses, paint, window coverings and home accent items.

According to eye witnesses next door at the time of the fire, smoke was first noticed in a building behind the main store. Flames then erupted and the fire moved into the retail part of the building.

Eyewitnesses Greg Remark and Daryle Collins were next door manning a lot full of RVs, boats, trailers and other recreation equipment from their store, Bob's Intermountain RV & Marine Sales, in Pocatello, Idaho.

Remark said he was awakened by Sheriff's Office deputies banging on the door of his trailer between 2:00 - 2:30AM telling him to get out because there was a fire next door. He didn't even have time to grab enough clothes to get completely dressed. He was fearful his trailers and boats would become casualties of the intense heat from the blaze, but firefighters were able to contain the spread of the fire. Fortunately the company sustained no losses to their RVs, boats or other merchandise.

Collins said he went to bed after midnight and didn't notice anything unusual. He said the fire was reported by a man walking home to the Baymont Inn and noticed smoke coming from a building attached to the back of the furniture store. That man called 911 to report the fire. Flames broke out shortly thereafter and spread rapidly. Collins and Remark wanted to try and save some of the items from the part of the building that was not yet involved in the flames, but firefighters told them it was too dangerous. The smoke contained noxious chemicals, paint cans were exploding, and there were propane tanks in close proximity on both sides of the burning building.

Fire engines from Pinedale, Daniel, Boulder and Big Piney responded to the scene. Firefighters from Bondurant and Kendall Valley Volunteer Fire Departments provided manpower support.

According to TJ Hunt, Sublette County Fire Warden, the building was fully engulfed when firefighters arrived. Hunt said once they got set up they were able to knock the fire down within about an hour.

"This fire sure taxed the town's water system on that end of town," Hunt said. "The new water lines on that end of town really helped."

The fire burned very intensely due to the stores's inventory of flammable paints, stains, carpets and furniture. Noxious black smoke poured from the blaze.

Hunt praised firefighters who succeeded in keeping the intense flames away from boats and RVs parked on the east side of the home center and buildings next door to the west. "They did a hell of a job," he said.

There were no injuries from this fire.

The building did not have a sprinkler system installed. "I don't know that a sprinker system in the building would have helped," Hunt said.

State Fire Marshal investigator Shad Cooper is investigating the blaze.

At this time, the cause of the fire is unknown.

Photos by Greg Remark, Daryle Collins-Bob's Intermountain RV & Marine Sales; Joe and Terri Zuback; Bob Rule, KPIN 101.1 FM; and Dawn Ballou, Pinedale Online!
______________________________________________
Editor's update, Monday, July 1, 2008: RMHC owner Scott Grove called and gave us an update on the status of their business. Click on this link to read his comments: We're OPEN! Rocky Mountain Home Center (By Dawn Ballou, Pinedale Online, July 1, 2008)

Editor's note 6/30/08: The Grove family was not available at the time of the posting of this story. We have unconfirmed reports that they do plan to continue to operate in some way to deliver orders that are coming in, as best they can. We'll post more on their plans, and any information on how people can help if they need it, as soon as we are able to get in contact with the family. See the Thursday editions of the Sublette Examiner and Pinedale Roundup newspapers for more details on this fire. Special thanks to Bob Rule/KPIN 101.1 FM Radio and Joy Ufford/Sublette Examiner for their contributions to this story.