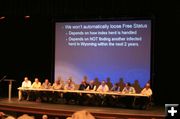 Brucellosis

Speakers included the Wyoming State Vet and representatives from the Wyoming Livestock Board, Wyoming Game & Fish, Governor Freudenthal's office, APHIS, the Brucellosis Task Force.


Brucellosis meeting draws crowd
by Cat Urbigkit, Pinedale Online!
June 18, 2008

More than 100 livestock producers attended a meeting in Pinedale Tuesday evening to meet with federal and state animal health and livestock industry officials to discuss the current brucellosis situation in Sublette County in wake of the recent discovery of two cows from a Daniel-area herd that were infected with the disease. The entire herd of origin is being tested for brucellosis Wednesday, with plans being initiated to test all contact herds as well. These herds will be quarantined while testing proceeds. The next steps in the process will focus on determining the extent of the brucellosis infection, and determining where the outbreak originated (in cattle or wildlife).

There were several topics of consensus for Sublette County cattle producers at the meeting:
• Livestock producers will fully support the decision of the individual producer who must now decide whether to accept an indemnity payment and slaughter his entire herd, or to enter a long-term test-and-quarantine in attempt to save the herd. This is a firm stance and is taken with full knowledge that Wyoming will loose its brucellosis-free status if the herd is not depopulated within 60 days of confirmation of brucellosis by federal vet lab personnel.

• Livestock producers do not believe that the RB51 vaccine is effective and want the Strain 19 vaccine to once again be allowed for use in this area.

• Sublette County producers are wary of going to split-state status for brucellosis. Split state would allow some portion of western Wyoming to be downgraded to Class A status while the remainder of the state could remain brucellosis-free. The loss of political will to help combat the disease is a big issue with split status. By keeping it a statewide issue, there is statewide
support for implementing disease prevention and control measures.

• Federal rules for dealing with brucellosis outbreaks in need to be revised. Wyoming State Veterinarian Dr. Walter Cook said he feels badly for the producer involved in the current outbreak. If the producer agrees to the slaughter of his entire breeding herd of cattle (think of having to make that horrible decision) and then wants to continue ranching, he must restock. The reality is that the risk of disease transmission hasn't been reduced – the risk is still there.

Cook said the producer is "a victim of antiquated regulations" requiring depopulation of herds.

Dr. Bret Combs of APHIS said his agency does indeed prefer the depopulation of herds rather than long-term quarantine and testing. Depopulation reduces the risk of spreading disease to other herds, but is entirely voluntary for the producer. He also questioned the logic of depopulation and restocking when the disease still exists on the property, simply by its location in western Wyoming.

"How much sense does it make if you're not going to address the source?" Combs asked.

Cora rancher Dave Noble summed up the feelings of many with his: "The policy APHIS has is simply depopulating ranchers."

"It's sickening to see it happen. It's terrifying to see it happen," Noble said. "Western Wyoming is very much under seize. We don't want depopulated."

The extent of the brucellosis testing program about to be undertaken in Sublette County remains unknown. Currently the focus is on the herd of origin and any contact herds, including those with fenceline or commingling contact. One negative test will not be enough. The cattle will be tested, then need to go through another calving cycle and be tested again.

Also included in testing will be bulls originating with the infected herd and sold to other producers. It now appears that bulls sold out of this herd within the last two years will need to be bled for brucellosis.

Testing will proceed "as rapidly as possible," according to Dr. Bret Combs of APHIS.

As for how far the testing net would be extend, Combs replied: "I can't really answer that now. We don't really know how big a net we're going to have to cast."

Most of the producers at Tuesday's meeting were from Sublette County, although there were also producers from Sweetwater and Teton counties in attendance.

Story by Cat Urbigkit. Photos by Dawn Ballou, Pinedale Online!




Related Links