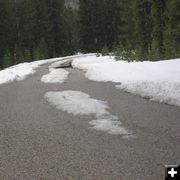 Skyline Snow

Cyclists will encounter patches of snow just 10 miles from town, but won't reach an impasse until the scenic overlook shortly before Elkhart Park. Photo taken on Monday, Memorial Day, May 26, 2008.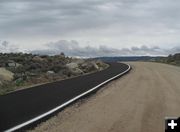 Pinedale Bike Path

No traffic, no gravel, great views – the Pinedale Bike Path is a short treat for cyclists in Pinedale. The bike path parallels the Fremont Lake Road and connects town to the CCC Ponds near Fremont Lake.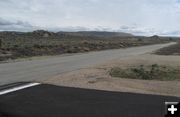 Bike Path End

The junction of the Pinedale Bike Path with Forest Service Road #111 on the lower end of Fremont Lake. The paved road connects to Skyline Drive and the Fremont Lake Road. The road also passes the oasis of Sandy Beach on Fremont Lake, a respite for over-heated cyclists or triathletes.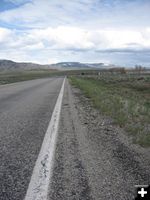 Highway 353

Tires on the white line, eyes on the mountains. Highway 353 is a popular destination for cyclists looking to evade heavy traffic. Note, most of the rural highways do not have emergency lanes on the outside of the white line, forcing bikers to ride in the vehicle driving lane on these roads. Fortunately, most do not receive heavy vehicle traffic.


Where to cycle in Sublette County
by Casey Dean, Pinedale Online!
May 27, 2008

Pinedale has prime terrain for thick, treaded tires, a heavy frame and a multiple-shock system, but cyclists find it to be less suited to light frames and skinny tires.

Though paths for mountain biking far outnumber those optimum for road biking, local cyclists have a few favorites, as well as a few tips for sharing the pavement with Sublette County traffic.

"There's so much traffic on these roads and they are not in the best condition," said physical therapist Tanya Smith. "If you want to ride, you just deal with it."

Dale Hill of A-to-Z Hardware in Pinedale is another local who deals with it. Initially, he was quick to discount quality biking roads in Sublette County.

"There's not any," he laughed before rattling off the routes he frequents. The list is short, and not every cyclist can agree on the safety or the quality of every ride. Nonetheless, Smith and Hill agree on a few of Sublette's safer scenic cycling spots.

Steady Climb – Skyline Drive
Both Hill and Smith particularly enjoy the winding climb up Skyline Drive to the Elkhart Park Trailhead. The 30-mile ride peaks at 9,100 feet in elevation, then culminates in a roller-coaster glide down to Pinedale at 7,200 feet. This week, snow pack on the road shortens the route by a couple of miles, and given current weather forecasts, it may be several weeks before the entire road is navigable. Cyclists should not attempt to ride where snow cuts into more than half the road.

Hill warned that the shoulder-less road fields a lot of traffic at times, and Smith encouraged extreme awareness on the part of cyclists, in part because many drivers are not particularly conscientious of bikers.

Smith, and experienced cyclists, said she makes her presence known on the road by riding in the lane rather than the shoulder; on several occasions motorists have driven her off the road. Instead, she establishes her portion of what are often narrow roads in the region.

"I ride in the road a lot … I force people to slow down and go around me," she said.

Just for you: Pinedale Bike Path
The 3.5-mile Pinedale Bike Path provides a short reprieve from road traffic and access to Skyline Drive. The uphill path begins just behind Rendezvous Pointe Senior Center and terminates at Forest Service Road #111 at the lower end of Fremont Lake. The lower Fremont Lake road to the campgrounds from there, though scenic, is in poor condition and scattered with potholes and loose rocks. It is also popular with summer campers hauling trailers.

Flat and wide – Highway 352
For cyclists who prefer to share a wider road on less of a climb, Highway 352 from the Cora Highway 191 junction provides a relatively flat cruise, though there is a persistent crosswind. A full 25 miles of sparse traffic – particularly on weekdays – and marked shoulders stretches from Pinedale to The Place restaurant. Highway 191 from Pinedale can be perilous for cyclists; the Cora "Y" junction is a starting point worth considering.

Hill considers Merna Road (Hwy 354), about 10 miles past the Cora 352 junction on Hwy 191, one of the better rides in the county, though he acknowledged the road is "breaking up a bit." The Wyoming Department of Transportation will not repair the road this summer.

Rolling hills and solitude - Highway 353
For bikers looking to put Pinedale at their backs in a different direction, a short drive is necessary. Highway 191 south of Pinedale is used heavily by large oilfield machinery and traffic is persistent – dangerous conditions for cyclists.

Hill said the 15-minute drive to Boulder is worth the quiet beauty of Highway 353 to the end of the pavement. The turnaround point lies 32 miles down the paved road. Traffic is sparse on the winding, hilly road, which is wide enough to share with comfort. Some stretches of the highway are in better repair than others, but the rolling route is clear and scenic.

"You just get used to it," Smith said of the limits of cycling in Pinedale. She remains committed to pumping up her skinny tires and enjoying the town's less prevalent form of biking.

Photos by Casey Dean