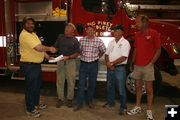 Congratulations

Sublette County Fire Warden T.J. Hunt congratulates Daniel Fire Chief Ben Franklin on receiving his Fire Officer I (one) certification last week. Standing next to Ben is Big Piney Fire Chief John Ball who received his Fire Officer III (three) certification in December. To the right of John Ball are Bondurant Fire Chief Richard Thomas and Boulder Fire Chief John Blaha. Photo by Dawn Ballou, Pinedale Online!



Green River Training Tower

The Fire Training Tower in Green River. Sublette County firefighters want to build a similar training tower somwhere in Sublette County. They are currently considering BLM land near the WYO 351/US 189 intersection area northeast of the Sublette County Fairgrounds. Photo courtesy Sublette County Fire Board.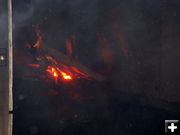 Structure Fire

Sublette County firefighters got live fire train in Green River recently as part of their structure fire certification. Photo courtesy Sublette County Fire Board.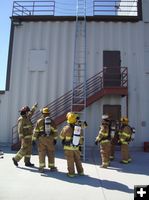 Structure fire practical training

The Fire Training Tower gives firefighters an opportunity to do live fire training in a safe and controlled environment. Photo courtesy Sublette County Fire Board.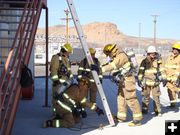 Safe ladder placement

Firefighters train on proper placement of equipment. Photo courtesy Sublette County Fire Board.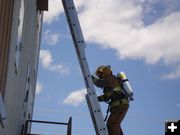 Climbing the ladder

The fire training tower gives firefighters an opportunity to train on structure fires. Photo courtesy Sublette County Fire Board.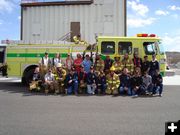 Training in Green River

Sublette County firefighters were recently in Green River doing structure fire training. Photo courtesy Sublette County Fire Board.


Sublette firefighters receive training
Ben Franklin and John Ball achieve Fire Officer certification levels
by Dawn Ballou, Pinedale Online!
May 21, 2008

Two Sublette County firemen have recently completed the rigorous training to receive Fire Officer certifications. The Fire Officer certifications give them intensive training for management of structural fires.

Daniel Fire Chief Ben Franklin received his Fire Officer I certification in early May. He has been a volunteer fireman in the county for 15 years.

Big Piney/Marbleton Fire Chief John Ball received his Fire Officer III certification last December. Ball has been a volunteer fireman for 30 years.

The Fire Officer training and certification required both to put in many hours of classroom study, and then go through live fire training. The time commitment for the training is huge. The hours for their most recent certifications amounts to 96 hours of just class time. They travel to larger towns with bigger facilities to do the live fire training.

"We've been doing practicals all year," said T.J. Hunt, Sublette County Fire Warden, from Daniel. The extensive training ends with live fire training.

New cadets have been spending months training to get their Firefighter I and II certifications. Cadets are on probation for one year, which is almost complete for the new volunteers. Next month, firefighters will do a week of training on wildland firefighting.

Sublette County is serviced by a network of volunteer firefighter companies. The men and women who staff these stations give a tremendous amount of their personal time in service to the community. There are six volunteer fire departments in Sublette County: Big Piney/Marbleton, Bondurant, Boulder, Daniel, Kendall Valley and Pinedale.

The fire departments are always looking for more help for their departments. "Anyone interested in joining, now is a good time before we start on fires," said Hunt. For more information, contact any of the fire chiefs below:

Big Piney/Marbleton: John Ball, 307-276-3409
Bondurant: Richard Thomas, 307-733-2180
Boulder: John Blaha, 307-537-5454
Daniel: Ben Franklin, 307-859-8400
Kendall Valley: Festus Kraus, 307-367-6842
Pinedale: Alvin Mitchell, 307-367-3550
Fire Warden: T.J. Hunt, 307-360-8494
________________________

OTHER FIRE NEWS AND NOTES:
Reporter Notes from Sublette Fire Board meeting in Marbleton on Monday, May 19, 2008 - by Dawn Ballou, Pinedale Online!

- All Fire Days: will be held on June 14th in Hoback Ranches. This is an inter-agency fire training effort which includes county firefighters, US Forest Service, BLM and others.

- Fire Wise Program: Sublette County has a county-wide grant for a special Fire Wise program to help rural residents clean up their property and make it more defendable in case of a wildland fire. Firemen will come out to the residence and do an assessment of the threat to the property, and will even spend time doing brushing and clearing to help remove fuel debris that could bring a wildfire closer to homes and outbuildings. Their grant money allots them $2000 per residence to do the property risk reduction for rural homes. The firefighters are particularly concerned about homes in the Hoback Ranches area as being at risk in the event of a wildfire. Any resident who is interested in learning more about how to protect their rural property, and specifically in taking advantage of the free Fire Wise program, is strongly encouraged to contact Bondurant fireman Gary Capron, coordinator for the program in the county (307-360-8280). Now is a good time to have the fire crews come out and do the work, before fire season hits here. The departments had a Fire Wise booth set up at the recent Home & Garden Show in Pinedale, however not many people apparently were interested. The firemen expressed concern that fire season is quickly approaching and a number of rural properties in the county are at extreme risk in the event of a wildfire. Unless the property owners do preventive measures in advance, firefighters commented it was unlikely they would be able to save those peoples' properties. The Board discussed doing some ads in the paper and on the radio to try to continue to get the word out to local property owners about the free Fire Wise program. "It's just a matter of time before we'll be in our fire season," was one comment. "All you can do is offer," was another.

- New Fire Equipment for Sublette County: The Sublette County Fire Board is working on building a fire training tower somewhere in the county. They are presently interested in 20 acres of Bureau of Land Management land just north of WYO 351 and east of US 189, north of the Big Piney ball fields. They plan to proceed with discussions with the BLM about acquiring this property for this purpose. The Board is also prioritizing their foreseeable needs for new fire trucks. They hope to acquire three Type III trucks over the next five years. Those Type III trucks would go to Daniel, Kendall Valley and Bondurant. They also want to get two Rescue Trucks, one for Big Piney/Marbleton and one for Boulder. Pinedale Volunteer Fire Department has had their request approved for a new aerial/ladder truck which is being funded by Sublette County and the Town of Pinedale. Funding for this equipment is expected to be heard by the County Commissioners during their budget meeting in early June.

As a side note to the equipment discussion, apparently new national standards will be going into effect soon that affect how fire departments respond to emergency calls. These new guidelines appear to be tailored more to city situations with some of the new regulations actually hampering rural fire departments. One such guideline is a new 60 mph speed limit rule for fire trucks responding to fires, which is being implemented due to accidents responding to and from emergencies. There was some question and debate about whether that rule made sense for rural Wyoming. Another new requirement is that all components on new fire trucks from the factory must be certified by second party testing. There are also new diesel and sulfur fuel standards. Older equipment must be taken out of service after ten years. These new requirements will go into effect July 2009. It is expected these new requirement will double to triple the cost of new firefighting vehicles in the future.

- How to get water to rural subdivisions in Sublette County? All the fire departments are concerned about the rapid growth and subdivision of rural properties in Sublette County and how to adequately protect rural homes in the event of a fire. The Board has had discussions with Sublette County Planning & Zoning about what to do to plan water sources for these rural areas. Talks are in progress about ideas for requirements or recommendations for new subdivisions to design water reservoirs into the subdivision that can be tapped into as a close local water source for fire suppression needs. Discussions include fire lanes, water sources with dry hydrants, how to craft possible ordinances to factor in fire suppression needs. Talks are still preliminary and ongoing.

- Fire season has already begun Firefighters have already responded to several wildfires in our area. The recent calls were to help people who were burning brush from ditches and the fires got away from them. Conditions are already very dry. The Forest Service apparently also had some spring pile burning get away from them briefly, but they got it back under control quickly. Firefighters were surprised how quickly the fire spread in an area where the snow had just recently melted. "It's drier than it should be out there."

- Large fires in other states Fire season is in full swing in other areas of the country. Large fires are burning in Arizona (1), California (2), Florida (4), Georgia (1), Texas (2) and Washington (1), with over 84,500 acres involved as of Wednesday, May 21.
_________________________

Dawn Ballou, Pinedale Online, can be reached at dawn@pinedaleonline.com, 307-276-5699.