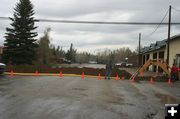 Gas line work along Wilson St

Pinedale Natural Gas workers dig a trench along Wilson Street Tuesday, temporarily blocking Lincoln Avenue near the Town Shop.


Road closed temporarily - Lincoln Avenue
by Dawn Ballou, Pinedale Online!
May 27, 2008

Pinedale Natural Gas Company is putting in a gas line across Lincoln Street on the west end of Pinedale near the Pinedale Town Shop The road will be closed to through traffic for part of this afternoon while the line is put in. Traffic can get around by going one block further west and taking Madison Avenue to get into the Redstone subdivision area.

Photo taken Tuesday afternoon around 3:00 PM, May 27, 2008. Photo by Dawn Ballou, Pinedale Online!