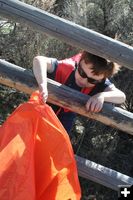 Colton Quirk

Colton Quirk picks up trash in the hard to reach spots.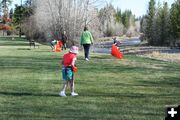 Community Clean Up

Orange trash bags, vest, and gloves could be seen all over Pinedale Saturday morning during the community clean-up day effort.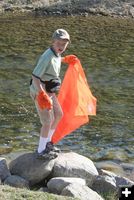 David Rule

David Rule hops from rock to rock while searching for trash.


Pinedale Community Clean Up Day
Annual spring event sponsored by the Sublette County Chamber of Commerce
by Pam McCulloch
May 20, 2008

Pinedale's Annual Community Clean Up Day was held Saturday, May 17th. The Sublette County Chamber of Commerce organizes the annual spring event. Over 200 people pitched in to help with the effort.

Community members gathered at Rendezvous Pointe Senior Center in Pinedale at 8:00 am and were grouped in teams of four to eight people. Teams were assigned different areas to clean. After the clean up, lunch was served by the Lion's Club.

In addition to the clean-up efforts, an Environmental Fair was held inside Rendezvous Pointe. Several booths were set up providing information geared toward a better environment.

The Sublette County Chamber of Commerce would like to thank the following businesses for their support in the 2008 Community Clean-up Day and Environmental Fair:

EnCana Oil and Gas (www.encanawyoming.com)
Questar
Tegeler and Associates (www.tegelerinsurance.com)
Ultra Resources
_______________________

The Chamber of Commerce would also like to thank these businesses and organizations for their contributions:
Pinedale Lions Club
Pinedale Kiwanis Club
Pinedale Aquatic Center (www.pinedaleaquatic.com)
Ridley's
Wonder Bread
US Foods
USFS-Pinedale Ranger District, Bridger-Teton National Forest (www.fs.fed.us/btnf)
Sublette County Conservation District
Ted Porwoll
Ed Sherman
The Recycling Center (www.pinedaleonline.com/recycling)
Sysco
Sue Eversull and the staff of Rendezvous Pointe (www.rendezvouspointe.com)
Sublette County maintenance department

"Thank you to all of the businesses and organizations that participated in the 2008 Environmental Fair! Thank you to all who helped with community clean up day and all you the generous folks that donated their time to help keep Sublette County beautiful! See you all next year!" – Terrie Swift, Director, Sublette County Chamber of Commerce

Photos by Pam McCulloch, Pinedale Online!