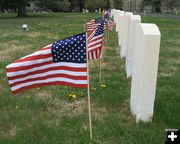 Memorial Day

American flags were placed on the graves of veterans at the Pinedale Cemetery for Memorial Day.


Memorial Day
by Pinedale Online!
May 26, 2008

Memorial Day observances were held on Monday, May 26th in Pinedale and Big Piney. Flowers decorated graves and American flags were placed by the headstones of those who served in the military.

In Pinedale, a Memorial Day observance ceremony was held by Post 47, American Legion, and Post 4801, Veterans of Foreign Wars and their Auxiliaries. A public luncheon followed at the VFW Post.

The Big Piney Memorial Day service was presented by the Dee Fox Post 78 at Plainview Cemetery.

Photos by Dawn Ballou, Pinedale Online!