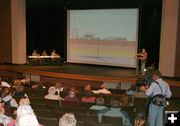 Ozone forum

Dr. Theo Colburn speaks during the ozone forum on Tuesday. PBS videod the event and interviewed members of the community. The forum was broadcast live on KPIN 101.1 FM radio.


CLOUD ozone forum
by Dawn Ballou, Pinedale Online!
May 14, 2008

Members of the community hosted a public forum at the Pinedale Auditorium on Tuesday night. Four guest speakers were brought in by CLOUD (Citizens Learning Ozone's Unhealthy Destruction) to present information on air quality issues relating to natural gas development.

Approximately 125 people were in the audience, including the general public, Sublette County Commissioners, BLM and Forest Service employees, gas-field workers, and representatives from the natural gas company industry management.

The forum was broadcast live on KPIN 101.1 FM radio. Outside media also came to Pinedale because of the high-profile nature of the ozone issue and the forum event, including National Public Radio (NPR) and a videographer from Jim Lehrer Newshour on PBS (who spent as much time filming the audience reaction as the speaker presentations).

The ozone issue remains a hot topic in Pinedale. After the event, audience private comments ranged from "this was very informative" to "this was crap."