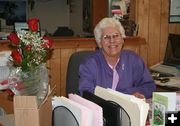 Betty Hunt

Betty worked for the Pinedale Town Hall for seven years.


Betty is retiring!
by Dawn Ballou, Pinedale Online!
May 29, 2008

Betty Hunt is retiring.

Betty has been a fixture in Pinedale for many years. For the past seven, she has been the friendly face who greeted people at the Pinedale Town Hall. Friday, May 30th, will be her last day. The staff at the Town Hall had a combo birthday/retirement party for her on Thursday.

What is she going to do now that she's retiring? She said she'd like to do some traveling. She plans a trip to California soon with her daughter. Then she's thinking about exploring the sights on the east coast. She said there are lots of places in the United States she hasn't seen, so she'd like to go and do that.

Best wishes Betty!

Photo by Dawn Ballou, Pinedale Online!