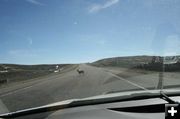 Deer Crossing

A herd of about 15 mule deer crossed US 191 near Trapper's Point on Monday, April 14th. Approaching vehicles were able to stop in time as the animals suddenly began springing across the road, and all these deer made it across safely.


Trapper's Point Deer Crossing
by Pinedale Online!
April 17, 2008

A herd of about 15 mule deer made the perilous dash across US 191 at Trapper's Point, between Pinedale and Daniel, earlier this week. The crossing is dangerous for both big game and vehicles on the busy road.

Wyoming Department of Transportation installed high-tech wildlife sensors in the area to warn motorists of big game near the highway. The flashing lights worked while these deer were crossing.

Big game wildlife are beginning to move north as snow melts and more areas open up for them to find food. Motorists are advised to be alert for deer and antelope, and an occasional moose, crossing the highways and grazing in the road right-of-ways.

Photo by Dawn Ballou, Pinedale Online!