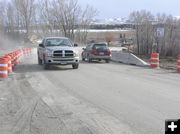 2-Way Traffic

The road has been widened to two lanes and the traffic control light has been removed. Photo by Bob Rule, KPIN 101.1 FM radio.


Timber Bridge replaced, grading and paving to take place
Timber bridge over Lee's Ditch on the Fremont Lake Road in Pinedale
by Wyoming Department of Transportation (WYDOT)
April 11, 2008

(Pinedale) - The timber bridge over Lee's Ditch on Sublette County Road 350-1, Fremont Lake Road, has been replaced, the temporary traffic signals removed, but work is not completely finished, say Wyoming Department of Transportation officials.

There will be grading work around the bridge taking place around the bridge area, followed by paving of the bridge. The work schedule will depend on the contractorsí schedules, but once the work begins, flaggers will be used to direct traffic through the construction area, said Bob Maxam, WYDOT Resident Engineer in Pinedale.

The project has a scheduled completion date of Sept. 20, 2008 and the $639,303.25 contract was awarded to Reiman Corp. was awarded on Nov. 15, 2007.