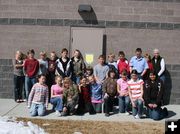 Testing the air

The 6th grade class is doing the ozone test. The other classes are observing and learning as they watch the results. Here, a 5th grade class poses by the door with the ozone monitor with their teacher, Mrs. Retta Hudlow.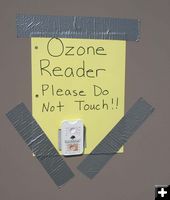 Ozone Test in Progress

The Ozone test has a 1-hour and an 8-hour test strip. The science class has placed it on the door that leads to the school playground.


Testing the air they breathe
by Dawn Ballou, Pinedale Online!
April 8, 2008

Sixth graders at Pinedale Middle School are doing their own Ozone monitoring at the school to test the air they breathe.

The students in Mrs. Hudlow's science class are putting 1-hour and 8-hour ozone monitor test strips on the outside door of their classroom, adjacent to the school playground. After the allotted time, the strips are compared to a calibration sheet to determine how much ozone was detected in the air during the exposure time. The brighter the pink in the disk, the more ozone in the air. The disks are then put on display on a bulletin board in their classroom.

"The reason we started collecting data was that the students had questions about the ozone levels that were being reported in our area. We are going to continue to collect data until the end of the school year. The kids are already asking great questions about the causes of ozone and what effects it has on their health," said Mrs. Hudlow.

"Our first day showed a pretty high one hour morning reading at 8:30 am. It was above 100 ppb. The afternoon reading dropped a good bit. It looked around 40ppb. It was cloudy and breezy in the afternoon so maybe it blew away. The 8 hour reading is showing about 80 ppb," she said.

Pictured at right, the 5th graders were in science class when we came by to get pictures, so they posed outside the door next to the test strip. Later, the class had a discussion about ozone and why the 6th graders were doing the ozone testing, resulting in more than one grade learning from the exercise.

During February and March, Wyoming Department of Environmental Quality issued five Ozone Advisories for Sublette County, the first ozone alerts ever for Sublette County and the State of Wyoming.