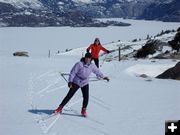 Above Fremont Lake

Frozen Fremont Lake is in the background near some of the groomed trails.


Pinedale Nordic Ski Grooming Report: April 7
by Bob Barrett, Pinedale Ski Education Foundation
April 8, 2008

Grooming on the Pinedale Area Nordic Ski Trails has been scaled back to about once per week. Skier use has tapered off some but the cool spring is holding our snowpack well and the entire upper trail system from Halfmoon Lake Overlook to White Pine and Surveyor Park still has great skiing. As we enter the second week of April, we have no obstacles, bare spots or even thin areas showing anywhere on the groomed trails.

As the daytime temperatures warm, we are beginning to see some lower elevation snow "setup" from daily freezing and thawing. This consolidation of the snowpack provides a firm base for skiing without the need for grooming. The Nordic skier can then venture off in any direction where these spring conditions exist and can often have the best skiing of the season.

It takes sunny days with temperatures into the 40s followed by nighttime temps of 25 degrees or lower to produce these ski conditions. This week, that is happening below 8000' on all terrain except northern aspects. Good spring conditions can be found on big meadows and flats, the setup crust over frozen lakes or - as the skate skiers in the photos have found - the leeward side of the ridge between Fremont Lake and Skyline Drive.