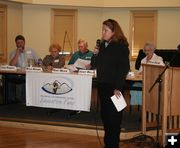 Diane Corsick

Diane Corsick, of the Wyoming Conservation Voters Education Fund, organized the candidate forum.


Candidate Forum in Pinedale
by Pinedale Online!
April 30, 2008

Five of the six candidates running for Pinedale Town Council attended a Candidate Forum at Rendezvous Pointe on Wednesday to answer questions about "Quality of Life". The forum was hosted by the Wyoming Conservation Voters Education Fund, based out of Lander. All of the candidates, except Dave Smith, attended. Smith was unavailable due to being out-of-town on a business trip.

Dave Fogerty, Nylla Kunard, Gary Heuck, Janet Bellis and Delores Christensen are competing for Town Council expiring seats held by Nylla Kunard and Gary Heuck.

Approximately 40 citizens attended the forum. The WCEF asked three questions which they felt were important, then private citizens had their turn. The focus of the forum was on "Quality of Life" issues.

The Wyoming Conservation Education Fund works to educate, motivate and provide capacity for Wyoming citizens and conservation organizations to protect and improve land, air, water and health of communities through civic action. They plan to hold a similar forum next fall for the Sublette County Commissioners election and state-wide position openings.