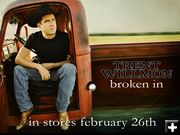 Trent Willmon - Broken In

Cover of Trent Willmon's newest album, "Broken In". His latest album was released in February, 2008.

Trent Willmon to perform benefit concert March 20th
Benefit concert at the Sublette County Fairgrounds for the Pinedale fifth graders to raise money for trip to Washington DC
March 13, 2008
On Thursday, March 20th, Country Music star Trent Willmon will be performing at the Sublette County Fairgrounds giving a special benefit concert for the Pinedale 5th graders to raise money for their trip to Washington DC. Trent's daughter, Montana, goes to Pinedale Elementary School and is in the 5th grade class that will be going on the trip in June. Trent agreed to do the special concert to help her class in their fundraising efforts.

Willmon is a country music singer-songwriter from Texas. He has charted six singles on the U.S. Billboard Hot Country Songs charts and released three albums. His latest hit is entitled, "Broken In", released in February 2008. His last hit was "On Again Tonight." His 2008 year is full with a touring circuit of concerts across the country.

Willmon will sing songs including, "Beer Man", "Home Sweet Holiday Inn", "Dixie Rose Deluxe's Honky Tonk, Feed Store, Gun Shop", "There is a God", "Good One Comin' On", and "Broken In". He will play with local bands the Sundowners and the Midnight Cowboys.

The concert begins at 7:00 PM. Cost is a free-will donation at the door (suggested $10 per person). Concessions will be available.