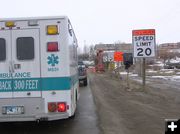 Fremont Lake Road light

The light is timed for a two-minute wait. If someone on either side runs the red light, a safety response turns the light red on both ends with a delay to let the offending vehicle pass through. Anyone running the red light risks a head-on collision with oncoming traffic. In addition, the traffic fine is higher in the work zone.



Road Construction

The road construction is on a curve in the road on a hill, with limited sight distance. Drivers are asked to be cautious through the construction area.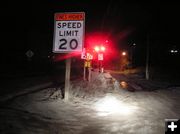 Red Light

Red Light-Wait for it One-way traffic is being controlled by a red light. Expect 2 minute delays. The road beyond is one lane with no room for two cars to pass. Drivers are asked to obey the red light traffic control system to avoid head on collisions.