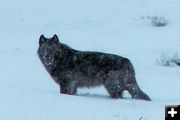 Sturman Wolf 1

One of the three wolves roaming in the Forty Rod/Cora area. Photo by Cody Sturman.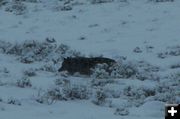 Sturman Wolf 2

One of the three wolves making its way through the sagebrush. Photo by Cody Sturman.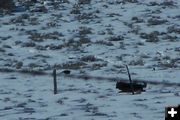 Sturman Wolf 3

The third wolf moves along the fenceline. Photo by Cody Sturman.


Wolf watching in the Upper Green
by Cat Urbigkit, Pinedale Online!
February 11, 2008

Residents and recreationists alike have been getting some
wolf-viewing time in the Upper Green River region of late.

Snowmobilers reported three gray wolves in the area of the
elk feedground at the lower Green River Lake.

Residents at Forty Rod have some close contact as well. The
Sturman family reports that they've been seeing three wolves hanging around the Bar Cross and Willow Creek ranches north of Cora.

Amy Sturman notes, "We've been seeing them for the past three weeks though two of them crossed the highway and headed for Forty Rod on Tuesday morning and one was back at the profit pile (a few days later)."

The wolves have been in the Sturmans' yard, as well as the yard of at least one other ranch residence. Cody Sturman shot a few photos of his neighborhood wolves.

Thanks to the Sturmans for sharing!

So far, no livestock losses have been reported in the area.

Photos courtesy Cody Sturman.