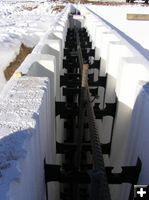 Rebar

Rebar will help reinforce the foundation concrete.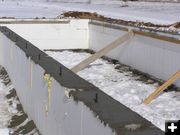 Foundation

Temperatures had to be at least 20 degrees to pour the cement for the foundation. Finally got that for a couple of days in February so they could pour.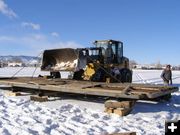 Floor Plate

The floorpiece for the Moondance Diner is carefully brought over to the site. This will be the base for the new floor.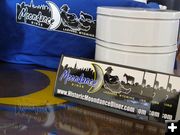 T-shirts and Bumper Stickers

T-shirts and bumper stickers are available now for the Moondance Diner. The cowboy in the logo is Cheryl's father, Kent, who helped bring the Moondance to Wyoming. The horse is Kent's roping horse, Leo.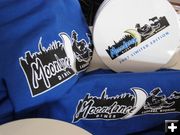 2007 Limited Edition

A limited-edition 2007 tin will be available soon. 2008 tins will also be available. Details soon.


Update on the Moondance Diner
New foundation poured; Getting ready to set the floor
by Dawn Ballou, Pinedale Online!
February 17, 2008

We checked back in with Cheryl and Vince Pierce on progress of the Moondance Diner. In case you haven't been following this story, the historic diner was moved from New York to LaBarge, Wyoming last fall, saved from the wrecking ball as New York developers put a high rise building on its former home. The diner was rescued by the American Diner Museum for its historic value and the Pierces bought it for $7500, on the condition they move it off the lot immediately. Cheryl's husband Vince, and father Kent (both truckers) drove to New York, loaded the diner up, and brought it to tiny LaBarge (population 431). The couple is restoring the old diner to the 1983 version of the building and they hope to have the renovations done to open by June 1st. The Moondance has had a long history and many wonderful stories associated with it while it was in New York. It appeared in episodes of "Friends" and "Sex and the City," and it was where Peter Parker's girlfriend, Mary Jane, played by Kirsten Dunst, waited tables in the 2002 film "Spider-Man." To follow the progress, visit them on the web at www.historicmoondancediner.com.

The foundation was poured on Tuesday, February 12th. The next step will be to set the floor plate for the original floor, hopefully sometime next week. Cheryl and Vince have received copies of the original blueprints for the Moondance, which they will be using to help them recreate the 1983 version of the diner.

Cheryl and Vince have been overwhelmed with the outpouring of support and people who have contacted them to share their stories about the Moondance Diner. They are determined to rebuild it as accurately as possible to the original specifications and respect the long history it holds, while beginning a new chapter for it in Wyoming. Below is Cheryl's update posted to the website on Wednesday, February 13th:

The Foundation For Our Dream Has Now Been Set!

"Yesterday was a day to celebrate. Weather permitted the final pour for Moondance Diner's foundation. After what seems like months of near bitter cold, the circumstances were quite suitable to complete the pour for the concrete forms on the Diner site. With camera in tow I snapped photos of the process; breathing a sigh of relief to its finality yet at the same time feeling eager anticipation for the remainder of the project that can now begin. G. C. Donald Hacklin and his assistant, Rowdy Headrick, spent the day channeling the concrete mix down into the Logix Insulated Styrofoam Forms. A company from Big Piney supplied the concrete.

We are very pleased with the work and how everything is coming together. The inspector was also on site and indicated his anticipation to visit once we are open. The Moondance Crew has hopes of setting the original floor sometime this week…. and then the project should really take off.

There are so many things to do… I can certainly equate Project Moondance with having children. The 9 months is such a process… so many things to accomplish and so many people asking… when??? It's a time of exhilaration and great expectation to the end… and THEN once your baby has arrived a whole new kind of work begins! As the local community as well as our national community of patrons (NCOP) see more progress on site I believe that it will generate more excitement and sense that Moondance Diner, The Encore is in store!"

Photos courtesy Cheryl and Vince Pierce

Contact for the Moondance Diner:
Cheryl and Vince Pierce: Phone (307) 260-6503
E-mail: cheryl@historicmoondancediner.com

Author of this article, Dawn Ballou, can be reached at support@pinedaleonline.com (Please put "Moondance Diner" in the subject line)




Related Links