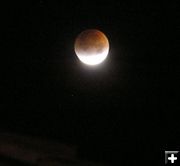 Eclipse of the Moon

Lunar eclipse on August 27, 2007, as seen from Pinedale. File photo by Bob Rule, KPIN 101.1 FM Pinedale Radio.

Total Lunar Eclipse Feb 20
February 20, 2008
Sky watchers had a treat Wednesday night for the last total lunar eclipse until 2010. The clouds cooperated and Saturn and the bright star Regulus were on opposite sides of the eclipsed moon. The total eclipse lasted nearly an hour, starting around 7PM on the West Coast and 10PM on the East Coast. The eclipse was visible from North and South America. Last year there were two total lunar eclipses, including this one pictured here from August 27th. Photo by Bob Rule, KPIN 101.1 FM Radio.