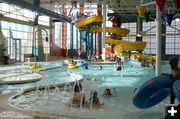 Leisure Pool

The new Pinedale Aquatic Center has been packed with people having fun trying out the new facilities. The Leisure Pool is a big hit with the kids!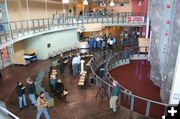 Aquatic Center

View of the lobby area from the elevated walking track. The track has windows and views overlooking the leisure pool, climbing wall, basketball court and exercise equipment area.

Pinedale Aquatic Center – something for everyone!
Pools, Climbing Wall, Exercise Equipment, Basketball, Racquet Ball, Classes
February 18, 2008
Hours:
Monday through Friday 5:00 AM to 9:00 PM
Saturday: 10:00AM to 6:00 PM
Sunday: Noon to 6:00 PM

For the Kids:
USA Swimming or USA Wrestling

For Anyone:
Karate, Aquatic Tai Chi, Walk Talk Run, Aquatic Conditioning or Wave Creations

Especially for Senior Citizens:
6 FREE hours per week, Monday/Wednesday/ Fridays from 9-11AM.
Jolly Joints Water Exercise Class

On the Wall:
All ages welcome to scale the 30-foot climbing wall.
Belay certifications offered ongoingly.

Track and Fitness area:
Bring the family and get fit together!

March Karate:
Registration will begin Monday, February 25th.

Memberships:
Buy now and get an Early Bird Discount.

Daily Schedule:
Call 307-367-2832 or check the web at: www.pinedaleaquatic.com