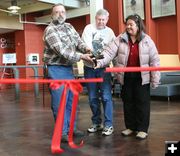 Ribbon Cutting

Joint Powers Board members (left to right) Jim Malkowski, Gary Hueck and ML Baxley cut the ribbon to officially open the facility.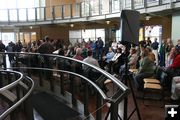 Large Crowd

After years of waiting, a large crowd braved a snowstorm and bad roads to attend the Grand Opening for the Aquatic Center.



Scroll down for more photos of the Pinedale Aquatic Center.


Pinedale Aquatic Center Grand Opening
by Clint Gilchrist, Pinedale Online!
February 7, 2008

The Pinedale Aquatic Center held their Grand Opening on Thursday, February 7th. The Ribbon Cutting Ceremony was at 2:00 PM, with a good crowd attending (which was remarkable considering we were having a rip roaring Wyoming winter storm with blowing snow, limited visibility, road closures and warnings of No Unnecessary Travel postings by the Wyoming Department of Transportation.)

The Center offers two huge pools: a Competition Lap Pool with a diving board and a Leisure Pool complete with a three-story slide, spraying submarine, tumble-buckets and a current channel.

PAC also offers a 32-foot climbing wall, a fitness area with the latest cardio equipment, two racquetball courts, a 1/12 mile indoor walking track, a multi-purpose gymnasium, three outdoor tennis courts, a party room, instructor's classroom and a child care area.

In addition, the following programs are being offered:
Water Exercise, by Ann Stowe
Water Exercise, by JJ Huntley
Arthritis Foundation Aquatic Exercise Program
Karate, by Karen Rogers
USA Youth Wrestling
USA Swim Club
Aquatic Tai Chi, by Karen Rogers
Stretch Aerobics

Regular hours begin on Saturday, February 9th. Hours will be:
Monday through Friday: 5:00 AM to 9:00 PM
Saturday: 10:00 AM to 6:00 PM
Sunday: 12:00 Noon to 6:00 PM.

Full use of the PAC is free during the Grand Opening through the month of February.

Related story - Pinedale Aquatic Center Sneak Preview - February 2, 2008.

More information about daily schedule details is available online at the Aquatic Center website, www.pinedaleaquatic.com or by calling 307-367-2832.