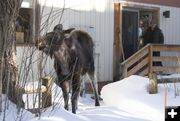 Moose in the yard

Wyoming Game and Fish Department Habitat Biologist, Steve Kilpatrick visits with a Jackson resident about moose safety as a moose browses on nearby cottonwood saplings. Photo by Mark Gocke, WGFD.


G&F: Give Wildlife room
by Wyoming Game & Fish
February 22, 2008

(Editor's Note: This story is about moose in Jackson, but it also applies equally to us here in Pinedale and Sublette County.)

Wyoming Game and Fish officials are asking residents in the Jackson area to be aware and show patience with moose and other wildlife that are showing up in residential areas. The Jackson Game and Fish office is receiving numerous calls of moose in and around the town of Jackson, prompting them to offer advice on how to avoid problems with these large animals.

"It's shaping up to be one of those winters where we're seeing a lot of wildlife, particularly moose and deer, in the town of Jackson and the surrounding communities," said Doug Brimeyer, Jackson Wildlife Biologist for the Wyoming Game and Fish Department.

Game and Fish is encouraging people to be aware and give the animals some room. "Typically, these animals are not going to pose a threat to anyone as long as we give them their space, control pets around them and so on," says Brimeyer.

Wildlife officials are asking residents to refrain from calling to report the animals unless it is deemed a safety threat. "Clearly if an animal is charging people or posing a threat, we want to know about it and will respond," says Brimeyer. "But in many cases, we're just going to have to give them room and acknowledge the fact that we're going to have to share our space with them here in the coming weeks."

On the other hand, wildlife officials acknowledge that wildlife, such as moose, can be potentially dangerous animals and offer these tips to avoid a conflict:

• Never crowd an animal or surround it.
• Always allow an animal an escape route.
• Always control pets and make sure there are no wildlife around before letting animals out of the house.
• View and photograph animals from a distance.
• Avoid feeding wildlife as it often attracts wildlife into conflict situations (i.e. roads, fences, landscaping, pets, etc.)

"This is a stressful time for all wildlife and we need to give them room, whether it's in the backcountry or our own backyard," said Brimeyer.

Teton county residents are reminded that there is a ban on the feeding of wildlife in the town of Jackson and throughout the county, excluding bird feeders and unintentional feeding associated with the feeding of livestock.