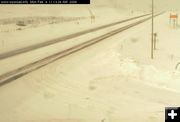 US 191 on February 4

View of US 191 just north of Pinedale on Monday morning, February 4. WYDOT webcam photo.

Crash closes US 191 north of Farson
February 4, 2008
1:05 PM, Monday, February 4: US 191 has been reopened to normal traffic between Farson and the Hwy 351 junction. Route reported as slick, with snowfall and blowing snow.

10:54 AM, Monday, February 4, traveler's alert: Traffic being allowed through accident scene on US 191 north of Farson via one-lane travel. Emergency responders are still at the scene of the crash. Another accident reported at the South Boulder Road on US 191, between two semis. No reported road blockage at second accident site. WYDOT reports US 191 between Farson and Pinedale is "Slick, Snowfall, Blowing Snow". Travelers are advised to watch for emergency vehicle responder traffic on US 191 between Pinedale and Farson. Road Conditions

9:45 AM, Monday, February 4, traveler's alert: A two-vehicle crash occurred at milepost 48 on US 191 north of Farson around 9:15 AM Monday morning. Officials are reporting complete road blockage in both lanes. Unofficial reports are that highway traffic is being stopped on US 191 northbound at Farson and from the Hwy 351 intersection on US 191 southbound.