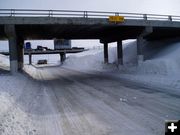 I-80 Snow

Picture of the I-80 Interchange at Creston Junction. Image taken Wednesday afternoon several hours after the rotary plow crew was able to clear the area before dawn. Photo credit: Tim McGary, WYDOT.


WYDOT crews work nonstop opening I-80
Battling unusually tough winter in south central Wyoming
by Wyoming Department of Transportation
January 30, 2008

When WYDOT crews broke through this morning (Wednesday, January 30) to reopen I-80 after 40 hours it was equally a victory of man and machine and Mother Nature letting up for a moment, WYDOT officials said today.

It's been an unusually tough winter and the worst of it for keeping roads clear has been between Walcott and Creston Junction, said WYDOT District One Maintenance Engineer, Tim McGary.

It's the snow. Not the falling stuff, necessarily, but the dry and fallen getting scooped up by the wind and drifting.

"Our area foreman in Rawlins has worked for WYDOT for 33 years and right now he says he has never seen this much snow just west of Rawlins," he said. "They've been getting pounded for two months."

In fact, the crews out of Rawlins, Baggs, Saratoga, Arlington, and Elk Mountain have had at least one plow on the road nearly every day since Thanksgiving, said McGary. And some drivers have had only one day off in that time.

Then came the storm this week.

"We had all the snow laying out in the desert and sage brush so pretty and fluffy but you get another two inches on top and you get those relentless 70 miles per hour winds and it whites out for miles," McGary said. "The drifts form on the roads. We plow the drifts but you do that long enough and it inevitably creates windrows. Then the wind just keeps beating you."

In anticipation of the latest storm, on Sunday arrangements were made to have help from Riverton, Lander, and Thermopolis crews come down to Rawlins. Two trucks were brought down as well as machine operators for dozers, motor graders, and a snow blower and operator borrowed from Rock Springs. Help also arrived from an operator and a truck from Cheyenne and two crew from Saratoga.

"We mustered all the help we could possibly get during the entire storm," McGary said.

Yesterday, two plows worked all day and night west of Rawlins where the worst problems were. They began with three trucks but one broke down. Drifts were continuously coming back over the driving lanes, so crews used a rotary plow normally reserved for opening mountain passes to chew through the four or five foot snow piles.

All the interchanges in the area were totally blown shut beneath the bridges.

"The big break to finally clearing this was the wind drop before dawn," McGary said. "We were finally able to get visibility to effectively get the snow pushed off the road. But we'll be battling this for quite a little while."

He plans on hiring a contractor to remove some of the snow still under the bridges and drifts on the shoulders in some areas.

"We'll try several different combinations of people and equipment to get this knocked back," he said. "In the meantime, if it starts snowing again and the wind picks up we might find ourselves back where we were."