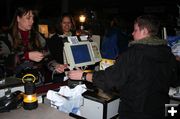 In the dark

Customers check out by lantern light at Ridley's Family Market (used to be Faler's General Store)in Pinedale during the power outage on Thursday. Photo by Alecia Warren, Pinedale Roundup. Only a handful of stores were able to stay open over the all-day power outage.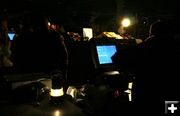 Shopping by lantern light

Ridley's Family Market (formerly Faler's General Store in Pinedale) put two generators out fron to their store, ran extension cords in through the front doors to get power to the cash registers during the power outage. Lanterns were placed around the store so customers could still shop in the dark. Photo by Alecia Warren, Pinedale Roundup.


Power outage in Pinedale, Boulder, Daniel, Cora
Power will be up intermittently with rolling blackouts for part of the day Thursday for affected areas
by Dawn Ballou, Pinedale Online!
January 3, 2008

Update 9:30 PM: We wish to express our thanks to everyone with Rocky Mountain Power for their efforts to get our power restored and rotate power through the area while the main power was off. Thanks also to Jeff Hymas, RMP Media Relations, for keeping all of us informed. He was also dealing with another outage in Casper today on top of ours.

Thank you to Bob Rule and KPIN 101.1 FM Pinedale Radio. Bob and KPIN were a lifeline for local residents by providing current updates. Bob Rule braved snow, ice and steep road access to get up to Mount Airy this morning to get the backup generator running. Another generator kept his equipment running at the radio station studio in town. When we all got our power back, Bob had to go back up the steep road to Mount Airy and turn off the generator and get the equipment switched back to full power operations. There are many people who helped Bob and got him things he needed during the day, so thank you also to all you folks (generator, flashlights, manpower for the phones, 4-wheeler to get up to Mount Airy, and other things we don't know about to give credit here.)

The long outage caused many stores and the restaurants to close in Pinedale. A few were able to stay open using generators. Country Lane Conoco was able to pump gas and sell convenience store groceries for those who got caught needing fuel and something to eat.

Faler's General Store put two generators out in front of their store, ran power cords through the door to their cash registers, covered power cords with mats so customers wouldn't trip on them, set up a bunch of Coleman lanterns throughout the store, and they too were operational and able to sell groceries. The parking lot was packed as usual! Alicia from the Pinedale Roundup was there and got pictures, so check next Thursday's paper for those.

The Sheriff's office and Emergency Medical Services were fully operational and responded to calls during the day, including medical calls related to the power outage. Bob Hansen with Sublette County Emergency Management and the Red Cross got an Emergency Command Center set up in the basement of the Sheriff's Office in Pinedale to handle any special emergency situations and take the load off the SCSO dispatcher, who still had to handle all the usual daily law enforcement emergency situations and radio traffic.

If there are other people who deserve to be recognized in this emergency, please let us know, and we'll add them to this wrap up.
_________________________________________

Update 8:20 PM: Some residents in the Hoback Ranches, Cora Post Office area, Green River Ranches area may still not have power. Everyone else appears to be back up. We have been given a different phone number to call Rocky Mountain Power for reporting if anyone still does not have power: 1-888-221-7070. The power company has finished with repairs for the big problem for today. They are working on getting power restored to the 40 Rod and other areas still reporting being out of power.
_________________________________________

Update 8:10 PM: The numbers given earlier for the Sheriff's Office Emergency Command Center apparently don't work. We have been given new numbers for anyone who still has some need related to the power failure. Dial 307-367-4379, extension 371 or 374. They will be open a little while longer to see if there is a need for their services. Anyone who still has power out in their area is urged to contact Rocky Mountain Power at 1-877-548-3768.
_________________________________________

Update 7:38 PM: Power appears to be restored to most of the Pinedale area and surrounding communities. Some residents in the Cora and 40-Rod areas still reporting not having power. Anyone who doesn't have power should call the power company at 1-877-548-3768. The Sheriff's Office has set up an Emergency Command Center and phone number for anyone who still needs help and services from the American Red Cross, 307-367-4894 or 307-367-4508.
_________________________________________

Update 7:20 PM: Reports that most areas have power on now (Pinedale, Cora, Bargerville, Daniel). Forty Rod area still reporting no power. We haven't heard officially from Rocky Mountain Power is whether or not this means power is up for good.
_________________________________________

Update 6:55 PM: Schedule available now for power rotation. Power will be on in one hour intervals so residents can get heat up, run wells for water, and do what they need to do during that time interval.
Pinedale's power will go out around 7:00 PM.
Boulder, Pole Creek, Bargerville, Sand Draw are next in line for power and will have it on from 7:00 to 8:00 PM (Pinedale should be OFF until at least 9 PM, however it still has power as we update this at 7:10 PM).
Daniel, Cora, Green River Ranches, Hoback area will have power from 8:00 PM to 9:00 PM. Then it will be Pinedale's turn again.
The Pinedale Clinic is available for anyone with a critical emergency need.
Info on the web for what to do during power outages: www.rockymountainpower.net, click on Safety, then go to power outages.
Bob Rule at KPIN has contact phone numbers and names for people who are opening their homes for some emergency shelter for anyone who needs a place to go, 307-367-2000. KPIN not sure how long they will be on the air. They are running on a generator up at Mount Airy. Anyone who might be able to help with that is appreciated. The radio station is not really set up to run as a command center, phones are pretty overloaded, so please only call when necessary. Thank you to those who have brought batteries, electric lanterns and help to the radio station, and calls for homes open to people to stay in for various areas. Someone is also rounding up a 4-wheeler or snowmobile to help Bob get up to Mt. Airy to get fuel to the generator up there as this emergency progresses through the night.
The Sheriff's Office is working on getting an emergency command center open with an emergency phone number for this situation.
It is unknown how long the power outage will be. Rocky Mountain Power has people working on the problem and the rolling power service will be in effect to try and get power to the various areas for at least some time during the outage.
_________________________________________

Update 6:15 PM: Caution to residents: DO NOT USE COMBUSTIBLE HEATERS INSIDE YOUR HOME FOR HEAT Do not run a charcoal grill, propane heater, camp stove in your home if you are in need of heat due to possiblility of suffocation from carbon monoxide poisoning from those kinds of heat sources without ventilation. Pinedale has power now, but this will go off and power will be moved to other areas in a one hour on, two hours off rotation. The SCSO is looking into activating an emergency phone number. Please minimize calls to the sheriff's office and the radio station and keep phone lines open except for emergencies. If any resident knows someone who needs shelter, please reach out to them and provide whatever assistance you can provide them or perhaps invite them over to your home. An emergency command center is being worked on at this time.
_________________________________________

Update 6:00 PM: Power came back on in Pinedale, but this is only temporary. Reports from a resident out by the Pinedale airport and the Cora Y that they still do not have power. Report now is that the repair did not work and RMP now must go to rolling power outages that will include Pinedale. Pinedale has power now, but it will be turned off (don't know when) as they shift power to other areas. Word now is one hour on and one hour off sort of situation. There have been reports of freezing pipes and some broken water lines. Bob Rule is checking with the Sheriff's office to see if there are any plans for shelters for anyone who might need a place with heat or other emergency needs. We will update as we are able to access the internet. Obo's, Conoco are open at the moment if you need batteries for your radio or flashlight. The Sheriff's office is also open, of course, for anyone who has an emergency. Bob Rule is broadcasting live from KPIN radio, 101.1 FM. If you don't have a battery operated radio, tune in from your vehicle. We are also working here at Pinedale Online, 307-276-5699, support@pinedaleonline.com.
_________________________________________

Update 5:45 PM: Pinedale Mayor Steve Smith reported the latest news from the power company. Apparently there is an additional problem beyond what the replacement part fixed, and there are still problems that need to be resolved before power is restored to the Pinedale area. Latest word is it will be at least 8:00 PM tonight, maybe 9 or later, before electrical power is restored. Many residents have been without power the entire time of this outage, which started around 7:15 this morning. Temperatures have ranged from -5 to around 10 degrees during the day.
_________________________________________

Update 4:35 PM: Power is expected to be back online hopefully by around 6:00 PM. Jeff Hymas corrected our earlier release that the equipment that failed was a component of the main transformer, but not the transformer itself. Repair crews are reconnecting the equipment now and should have power restored to all customers soon.
_________________________________________

Update 4:25 PM: Power is down for everyone now (3,700 customers). The Rocky Mountain Power repair crews are finalizing their work on the Pinedale substation and hope to have power restored to everyone by 6 PM or so. RMP was able to get power to some outlying areas for about 20 minutes, but we not able to do the rolling power service quite in the way they had hoped earlier, due to technical difficulties.
_________________________________________

Update 3:15 PM: Power is back on in Pinedale. The equipment has arrived in Pinedale from Evanston and crews are about half way through making their repairs on the substation near Ehman Lane on the west side of Pinedale. Repair crews are "hopeful" to get power restored by 7:00 PM this evening, or before. RMP still is trying to get another circuit working to get the outlying areas partially working in addition to the Pinedale service. That may or may not happen for those other areas depending on the load to the circuit, but crews are trying. When the equipment is finally installed, RMP will need to take power offline to everyone, including Pinedale, for about one-half hour before power service is restored continuously again. This is expected to occur around 6:00 PM this evening (rough estimate).
_________________________________________

Update 2:20 PM: Temporary glitch with power cycle switching caused power to go off again in Pinedale around 1:45 PM. Rocky Mountain Power said it may not be possible to keep all of Pinedale up continuously, but they are trying to keep power to the schools and critical care facilities. Bob Rule/KPIN 101.1 FM has generators working at both the Pinedale station and up at their equipment on Mr. Airy. Tune into the radio station for additional updates on the power outage situation today. RMP had hoped to get the Daniel/Cora/Hoback Ranches folks on around 1:30 PM, but weren't able to meet that time projection. They will get those customers power as soon as they can. The Boulder area power will be on for about 2 hours (once it comes back on), then will be switched off to cycle power to the Boulder, Bargerville and Sand Draw customers. RMP plans are to keep Pinedale customers with power as much as possible. However the power could go out again in Pinedale as they do the power routing. These Pinedale outages should be temporary.
_________________________________________

Update 12:55 PM, Thursday, January 3: Phone call update from Jeff Hymas, Rocky Mountain Power
RMP has changed their plan for the power outage rotation a bit. As of around 12:30 PM they have restored power to all of their customers in the Pinedale area. Part of the reason to keep power on in Pinedale was to keep the schools with power. Their plan now is to do the two-hour rotating power to customers in Daniel, Cora, Green River Ranches, and the part of Hoback Ranches they service first, starting around 1:30 PM today. Boulder, Bargerville and Sand Draw areas will get power back on in the next rotation after that. "These times are rough," said Hymas.

RMP had some difficulties with loading issues when they tried to bring the power to Pinedale, but they think they can keep Pinedale with power for the time being. They do not plan to put Pinedale customers in the power outage rotation for now.
_________________________________________

Update 11:30 AM, Thursday, January 3, 2008: Electricity has been out in the Pinedale area since around 7:15 am Thursday morning (January 3) due to a major component failure in the transformer at the Pinedale substation on Ehman Lane. Customers affected by the power outage include those in the communities of Pinedale, Cora, Boulder, Daniel, Green River Ranches, Bargerville, and the Sand Draw area.

"The main transformer at the Pinedale Substation is out of service because of a mechanical failure. Work to replace the failed component and restore full service to the area could take until this evening," said Jeff Hymas, spokesperson for Rocky Mountain Power (RMP).

A replacement part is being trucked from Evanston. Once here, it will still take some time to install to get power up and running. The power is expected to be back on by "early evening" today.

Big Piney, Marbleton, LaBarge and Bondurant are not affected and do have power.

The outage means people with phones that require electricity to operate will not have phone service. Also, residents who get their water from wells on pumps will not have water for long while the power is out. KPIN radio station is also off the air while the power is out. Internet access for some customers is also down due to the loss of power in Pinedale.

Approximately 3,700 customers are affected by the power outage. With a lengthy power outage and the cold winter temperatures there will be possibility of pipes beginning to freeze, loss of heat, phone outages, and people not getting drinking water.

RMP has temporary measures in place that can restore power to approximately 1/3 of those customers at a time. Electricity will be on for from 2 to 3 hours in "controlled rotating outages" throughout the affected areas that will allow approximately 1/3 of the affected customers to have power at any given time.

"We will begin implementing controlled rotating outages, beginning at about 11 a.m," Hymas said. Temporary restoration measures can serve only about one-third of the affected customers at any one time. Customers can expect to have power for two to three hours at a time, and to be without power for about 4 to 6 hours at a time. Rotation will continue until permanent repairs are completed. Full restoration is expected by this evening. "We have been able to reduce the number of customers out of service from 3,700 to about 1,700," Hymas said.

Customers are advised when their power comes back on that it will go off again, so they are strongly encouraged to use that 2- to 3-hour interval to crank up the heat, stock up on drinking water if they are on a well, take care of livestock needs and get what needs to be done taken care of before the power is rotated off again.

Pinedale schools are OPEN
According to Sharron Ziegler with Sublette County School District #1, Pinedale schools will remain OPEN and the kids will stay there during the day for 'business as usual' at the elementary, middle and high school. The school district will not have phone service, however, while the rolling blackouts are occurring because their phones require electricity to work. The phone will sound like it is ringing to the caller, but the school won't hear it ring on their end or be able to receive incoming or make outgoing calls until they get their turn for power to their area. Students will be released at the usual dismissal time. "The kids are warm and safe, so we're keeping them here," Ziegler said.

Additional Contacts for Rocky Mountian Power:
1-800-221-7070 (customer call center)
1-877-548-3768 (outage hotline)
________________________________
Editor's Note: After these kinds of community emergencies, we try to do an evaluation of what worked, what didn't, what can be improved, what needs to be changed. Did you get your information over our local KPIN radio? Was this website and our frequent updates helpful to you to provide current information about this emergency? If anyone has comments or suggestions about how we can improve our community response for this kind of an emergency for the future, we would be interested in hearing your comments. We are interested in how we as media can better respond and also what our community needs to do to set procedures or services in place to help residents in these times of extreme need. Please send comments to Dawn Ballou, Editor, Pinedale Online, support@pinedaleonline.com, or call 307-276-5699.

Thank you to Bob Rule/KPIN and Alecia Warren/Pinedale Roundup, for their contributions to this story.