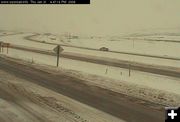 Evanston Port of Entry

View of Interstate 80 at the Evanston, Wyoming Port of Entry on Thursday afternoon, January 31st. Photo from the WYDOT webcam.



Other Webcam Views: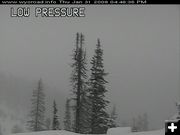 Jackson Hole

WYDOT webcam view of Jackson Hole from Teton Pass/WYO 22 on Thursday, January 31st.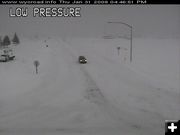 Alpine Junction

View of US 80 at Alpine Junction on Thusday afternoon, January 31. WYDOT webcam view.


I-80 Road Closure and Condition Update
January 31, 2008: Some parts open, some parts closed
by Wyoming Department of Transportation
January 31, 2008

Below are the latest updates for Interstate 80 road closures.

_________________________________________

Thursday, January 31, 2008, 4:25 PM:
Eastern Wyoming I-80 Reopens, Central Closes

(Rock Springs) - Wyoming Department of Transportation (WYDOT) officials report that Interstate 80 between Laramie and Sinclair has been reopened following a six-hour closure. Roads were reopened as of 3:00 p.m. in time for the Rock Springs to Rawlins leg to close at 4:15 p.m.

In eastern Wyoming road conditions are reported as being slippery in spots with drifted snow and strong winds, with blowing snow and poor visibility. The south central area in Wyoming is prone to high winds. The area is seeing an average wind speed of 50 miles per hour with frequent gusts in excess of 70 miles per hour. White out conditions prevails with icy roadways and wind chill factors well below zero.

The high wind conditions are expected to calm down to 25-40 M.P.H. during the late afternoon to early evening hours. As the next front moves in during the late evening hours, an additional snowfall of 2 inches or more can be expected, with black ice conditions developing.

In western Wyoming, blowing snow is likely to occur all night. Eastbound I-80 between Wamsutter and Rawlins, visibility is at zero with drifting and blowing snow and strong winds. "The interstate is closed at Rock Springs, but local traffic going to Wamsutter will be permitted to pass the closure gates, but they absolutely are not allowed past Wamsutter," said Theresa Herbin, WYDOT District 3 Public Involvement Specialist in Rock Springs.

Over the divides, or 'The Three Sisters,' just east of Evanston, 6-8 inches of new snowfall is expected with westerly winds of 25-35 m.p.h. Across the desert plains, between Rock Springs and Rawlins, blowing snow is likely to occur throughout the night, with a new snowfall of 2-3 inches expected along the interstate corridor, with black ice conditions developing.

"Safety continues to be WYDOT's top priority, and our personnel remain committed to providing the best winter maintenance possible. Motorists need to be aware that should a closure of the interstate occur, parking along the interstate is not permitted. Motorist must return to the nearest city or town to wait out the closure," said Herbin.

Motorists entering Wyoming from Utah can tune into 1690 AM, WYDOT's Highway Advisory Radio, near the Wyoming/Utah state line to get road and travel information. The HAR is also available near Green River and Rock Springs at 1690 AM, and 1610 AM at Rawlins and Walcott Junction.

To be better prepared for winter driving motorists should plan their trips carefully, letting their people know their route of travel and give them an anticipated time of arrival. They should also check road and weather conditions at www.wyoroad.info before leaving home and can periodically check weather conditions along the way by calling 1-888-996-7623 or 511 to keep their people informed of conditions the motorist will be encountering. Using these road and weather tools, it is possible for motorists to actually track a storm moving across Wyoming and make better, more informed decisions in traveling during winter months.
_________________________________________

Update Thursday, January 31, 2008 10:55 AM:
I-80 between Laramie and Sinclair closed in both directions at approximately 8:45 this morning.

US-30 between Walcott and Bosler closed at the same time, as did WY-487 north of Medicine Bow.

Conditions in the area show an average wind speed of 50 miles per hour with frequent gusts to 70 miles per hour. White out conditions prevail with icy roadways and a wind chill of minus-eleven degrees.

Conditions are expected to worsen throughout the day and into tomorrow.

The National Weather Service forecast indicates another half foot of new snow in Rawlins over the next thirty hours. Winds are expected to gust up to 50 miles per hour until dawn tomorrow and very windy conditions are expected into tomorrow night.

WYDOT snow clearing crews are fully engaged and working to clear the drifts from the blowing snow. However, the current conditions of zero visibility and extremely high winds with new snow on the way allow no projected opening for I-80, US-30 or WY-487 in the south central area of the state.

Travelers are urged to please plan accordingly and avoid that area, if possible, until the storm abates.

For more information, please contact Ross Doman, WYDOT District One, 307 760-2858.