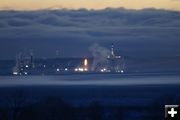 Cold Morning

At 7:30 this morning, temperatures hovered about 11 below zero along U.S. Highway 351. Photo by Cat Urbigkit.


Bitterly cold day ahead
by Cat Urbigkit
January 16, 2008

The National Weather Service is forecasting a day of cold weather for Sublette County, with wind chill values as low as 26 below zero. Once again, north/northwest winds are expected, at eight to ten miles per hour.

Unfortunately, this forecast continues for several more days, with Thursday's wind chill values expected as low as 42 below zero.