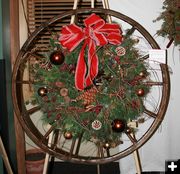 Gayle Kinnison Memorial Wreath

This beautiful wreath was created as a memorial to Gayle McMurry Kinnison, an avid supporter of the Museum. It received the highest bid at the auction, $1500 by Shell Oil. They plan to donate this wreath (re-made up each year) to the auction every year.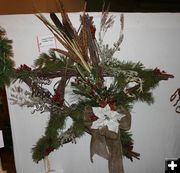 Sage & Snow Wreath

This wreath by the Sage & Snow Garden Club was one of the winners for People's Choice.



Scroll down for more photos


Wreath & Chocolate Auction
Fundraiser for the Museum of the Mountain Man
by Dawn Ballou, Pinedale Online!
December 10, 2007

The Museum of the Mountain Man held their 14th annual Wreath and Chocolate Auction on Friday, December 8, at Rendezvous Pointe in Pinedale.

There were over 50 beautiful wreaths, decorations and decorative items donated for the cause. The largest amount paid was for the Gayle Kinnison Memorial Wreath, which went for $1500. Gayle McMurry Kinnison was a long-time supporter of the Museum.

The public choice favorite wreath award was shared by the Sage & Snow Garden Club for their beautiful star wreath and by Three Peaks Ranch-NOLS (Nikki Mann and Jeff Wohl) for their unique driftwood and antler wreath.

Sublette County Historical Society Board Member Jay Fear served as auctioneer. All money raised goes to support the efforts and programs of the Museum of the Mountain Man in Pinedale.

This year's Wreath Auction was generously sponsored by First Bank of Pinedale.

The auction raised over $10,000 for the Museum.

Photos by Dawn Ballou, Pinedale Online!
_________________________________________________

The Sublette County Historical Society/ Museum of the Mountain Man would like to thank everyone for a successful Wreath and Chocolate Auction

Sponsor: First Bank
Host: Rendezvous Pointe
Auctioneer: Jay Fear

Wreath Donors:
Allen Agency, Ann Fear Appraisal, Artistic Finishes, The Barn Door, Big Brothers/ Big Sisters, Bottoms Up Brewery, Dianne Brokling, Childrenís Discovery Center, Crisis Pregnancy Center, DeGrazios, Falerís, GrandMaws, Green River Land Trust, Green River Valley Museum, High Country Counseling, High Mountain Real Estate, Julieís Childcare, Bud & Betty Kerback, LaMere Concrete, Log Cabin Motel, The McKenzie Foundation, Kay Malkowski Tree & Lawn Care, Noble Construction, NOLS Three Peaks Ranch, Annette Pape, Millie Pape, Patio Grill, Pinedale Learning Center, Pinedale Properties, Rendezvous Travel, Rio Verde Engineering, Nancy Ritschel, Rocky Mountain Bank, Sage & Snow Garden Club, Linda Schumacher, Sublette Center Seniors, Tegeler & Associates, Ultra Petroleum, The Gayle Kinnison Memorial

Buyers:
Shell RMP, Ultra Petroleum, Tiger and Melba Jaskolski, Sam Lowham and DeeAnn Marshall, Jo Crandall, Sam Drucker, Amy Maxam, Laurie Hartwig, Sue Briggs, Ann Noble, Luke Morgan, Richard Strom, Dawn Ballou, Janet Montgomery, Chris White, Patricia Ellis, Dixie Bredthauer, Barbara Pape, Dan Quirk, Linda Schumacher, Jackie Slogowski, Lil Penton, Craig Ritschel, Bottoms Up Brewery, Joel Bousman, Lana Ryan, Patricia Washburn, Kevin Jaquez, Steve Laster, Sherrie Thomas, Sue Eversull, Forest Wakefield, Geoff Sell, Paul Hagenstein, Retta Hudlow, Leonard Roehl

Elves:
Dawn Ballou, Dianne Boroff, Dixie Bredthauer, Ray Bredthauer, Matt Brunette, Sam Drucker, Clint Gilchrist, Laurie Hartwig, Ken Hartwig, Pat Jackson, Charlie Lopeman, Janet Montgomery, Annette Pape, Billy Pape, Fred Pape, Michelle Pape, Millie Pape, Ray Pape, Leonard Roehl