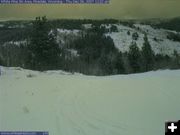 White Pine Dec. 6

View of snow conditions from the the White Pine top webcam on Thursday, December 6th. The ski area hopes storms in the next couple of days add the snow they need so they can open for the season.


White Pine hopes to open Saturday, Dec. 8
Just need 'one more good storm'
by Pinedale Online!
December 6, 2007

White Pine Ski Area and Resort is just one more "good storm" away from opening, said ski area manager Stuart Thompson. If the snow storm that is predicted for the next couple of days arrives and brings snow to the mountains, the ski area should be able to open soon. They are targeting Saturday, December 8th as the projected opening date, if Mother Nature cooperates. Everything is all set at the ski area to open as soon as they get a couple inches more snow.

For those who are watching for the opening, check in with the 24-hour SnoPhone for the latest recorded updates, 307-367-6606. Information is also available on the White Pine website at www.whitepineski.com. Snow sports fans can also get a good idea of the current conditions by monitoring White Pine's two webcams. One is positioned on the lodge and looks out at the lifts. The other is located on the ski patrol hut at the top of the mountain and shows the conditions of the runs at the top. These webcam images are posted on White Pine's website as well as here on Pinedale Online!