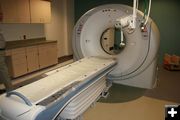 CAT Scanner

This 4-slice CT can do a patient exam in a matter of seconds. CT imaging uses special x-ray equipment to produce multiple images or pictures of the inside of the body. The digital images can be sent electronically to a radiologist technician in Jackson to evaluate the images.



Contact info:
Pinedale Medical Clinic
Phone: 307-367-4133
Fax: 307-367-6636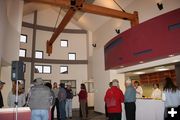 Reception Area

The reception area is open and expansive. This side of the clinic is for scheduled appointments and walk-in patients.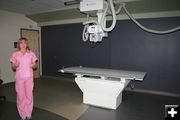 X-Ray Machine

State of the art x-ray machine is entirely digital instead of using film. Laura Clark is the Radiology Director.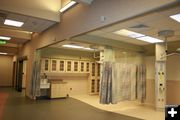 Emergency Room

The Emergency Room area has an ambulance entrance, 3-bay triage area, a decontamination room, climate-controlled trauma bays and a nurses station.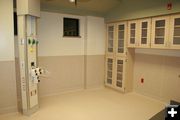 Trauma area

There is an enclosed, climate-controlled trauma bay area in the Emergency Room side of the clinic.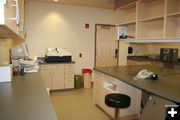 Lab

Lab for testing samples.



To hear the KPIN radio broadcast version of this story, click on this link: Pinedale Clinic Tour (KPIN 101.1 FM, 3:39 minutes, 661K, mp3 audio file)


Sneak preview inside the new Pinedale Medical Clinic
by Dawn Ballou, Pinedale Online!
December 3, 2007

On Friday, November 30th, the Sublette County Rural Health Care Board held a pre-opening reception for the new Pinedale Medical Clinic, which is almost ready to open to the public. Community members and the media were given an opportunity to meet the medical clinic staff and tour the facilities.

The SCRHCB had hoped to open to the public on Monday, December 3rd. However, workers still have more finishing touches to do on the building, so the opening has been delayed until mid-to-late December.

During the presentation, Sublette County Rural Health Care Board member Bill Budd made the remark, "We all serve with the same goal in mind: Quality medical care for all the people in this county."

Sublette County Clerk, Mary Lankford, speaking on behalf of the Sublette County Commissioners who were out of town, said this facility and the partnership to build this facility was very unique. "Money always makes it easier," she joked. "The two boards were able to get together to make this happen. It is a wonderful asset for this county and for the town of Pinedale," she said.

Cost of construction for the new building was $9.4 million.

The Clinic is split into two sections, one for regular appointment patient visits and the other for emergency room services. The facility has eight patient exam rooms, two of which are for visiting physicians. One of the rooms is set up specifically for gynecological exams, with curtains and extra privacy barriers. All the rooms have call lights above the doors, and a nurse call button inside, which the patient can press if they need to call a nurse for help, such as if they are experiencing chest pains while in the exam room.

Currently, three physicians from Jackson come to Pinedale on a regular basis, a urologist, an orthopedist and an OB/GYN doctor.

The new clinic features a state of the art X-Ray room which takes digital images rather than film. X-rays can be electronically sent over a dedicated T-1 line to St. John's Hospital in Jackson, where a staff radiologist can review the X-Ray within minutes and send back a report.

The crown jewel of the clinic is a new CAT scan machine. CAT or CT scanning is a non-invasive, painless medical test that uses special x-ray equipment to produce multiple images or pictures of inside the body. A computer joins the images together in cross-sectional views of the area being studied. CAT scans can provide detailed information on head injuries, stroke, brain tumors, internal organs, bone, soft tissue and blood vessels. It provides greater clarity than conventional x-ray exams.

This is a "4-slice" scanner, suitable for a small clinic such as this. The Jackson hospital has a 64-slice CAT scanner. More sophisticated models can go up to 320 slices. "It can do the scan in a matter of seconds," said Laura Clark, Radiology Director. The new scanner means it will take 15 to 30 minutes to get data back, compared to 7 days. "That's a big deal," said Clark. "It means our EMTs won't make so many trips to Jackson." If a patient needs a copy of their scan results or x-rays, the Clinic can burn a copy to a CD so the patient can take it to their own doctor in another medical facility.

The clinic also has a Minor Procedure Room that will allow staff to do things like splinting, casting and minor excisions. One room in the clinic will be for observation or detox, however there are no facilities for over-night stays. The blood-draw room has a direct pass-through door into the laboratory for testing so lab samples aren't taken out through the hallway. The lab meets all required regulations. It is humidity-controlled, which is required by some of the analyzers. Access to the lab is via a touch button lock system on the door so only authorized personnel can enter.

At present, the clinic will be open during regular weekday business hours, with 24/7 on call emergency services available.

The other side of the clinic is dedicated to Emergency Room services. It has its own separate entrance for the ambulance. Facilities include a nurse's station, decontamination, enclosed climate-controlled trauma bay, and 3-bay triage area.

The clinic has two doctors on staff:
Dr. Jim Quirk, Board Certified Family Practice Physician
Dr. David Kappenman, Board Certified Family Practice Physician

In addition, they have two Mid-Level Nurse Practitioners: Doug Thomas, PA-C
Kris Roork, PA-C mid-level providers, certified (-C)

Other department staff:
Dr. James Quirk, Medical Director
Mary Joe Carlson, Nurse Manager
Michelle Overgaag, Lab Director
Laura Clark, Radiology Director
Laurie Horn, Medical Records
Amanda Key, Site Supervisor

Administration:
Kip Boone, CEO, SCRHCD
Sally Boone, HR/Personnel
Lorraine Gatzky, CFO SCRHCD
Andy McGinnis, Maintenance Supervisor

Visiting Physicians are:
Dr. Finkelstein, urologist, Jackson
Dr. Guier, orthopedist, Jackson
Dr. George, OB/GYN, Jackson

Contact information for the Pinedale Medical Clinic:
Phone: 307-367-4133
Fax: 307-367-6636
Randy Johnson, 307-367-2099

Photos by Dawn Ballou, Pinedale Online!