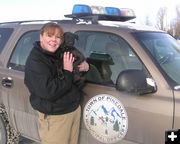 Jennifer Gocke

Jennifer Gocke with a black labrador puppy that needs a good home.

New Pinedale Municipal Officer on duty
December 21, 2007
Jennifer Gocke, the Town of Pinedale's new Municipal Officer, is on the job. Her main law enforcement duties will be parking enforcement and traffic control. Gocke's ticket book hasn't arrived yet, so everyone has a little more time before she starts writing tickets for improperly parked vehicles in Pinedale. One area she will be watching is the red zone in front of the Pinedale Post Office, where no one is supposed to park, but lots of people still ignore the No Parking sign and park there anyway. The job of catching speeders in town will be left to the Sublette County Sheriff's Office deputies and is beyond the scope of what she is allowed to do.

Temporarily, she is covering for animal control officer Julie Early, who is out for a couple of months. Pictured here, Gocke holds a female black Labrador puppy who needs a home. She has been taking the puppy with her in the patrol vehicle instead of leaving it alone in the cold dog pound building. She plans to take the puppy home with her at night. Gocke said anyone wanting to adopt this puppy can call her at home at 307-537-3413.

Bob Rule, KPIN 101.1 FM Radio, contributed to this story. Photo by Bob Rule.