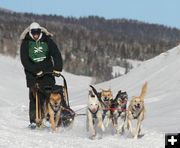 Casey Boulter from Big Piney

Casey is one of the race organizers for the 2007 Green River Classic. He is pictured here racing in the 2006 Green River Rondy.


Proceeds from the Calcutta go to the McKenzie Meningitis Foundation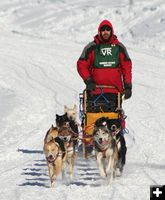 Allan Berge from Glenrock

Allan Berge, from Glenrock, Wyoming, competed in the 12-dog race in last year's Green River Rondy. He is one of the organizers for this year's Classic.




BP

BP is the major race sponsor, providing the $8,600 purse for the 6- and 12-dog class.




Continental Kennel

Continental Kennel Club is providing the $250 purse for the Junior Musher race.


Green River Classic Sled Dog Race Dec. 29 & 30
by Pinedale Online!
December 18, 2007

The 2007 Green River Classic Sled Dog Race returns to the Upper Green on Saturday & Sunday, December 29 & 30th. The Classic will take the place of the Green River Rondy sled dog race this year. There will be a 28-mile race for the 12-dog teams and a 14-mile race for the 6-dog teams.

BP is again generously providing the $8,600 purse money for the 12-Dog and 6-Dog class. Continental Kennel Club is providing the $250 purse for the Junior Musher event.

Both the 6-Dog and 12-Dog classes are now full with the 20-team limit per class. Names are being placed on a waiting list for Mushers who still want to try and get in for this race. All entries that are still on the waiting list at race time will get their entry fee fully refunded.

Deadline to enter the Green River Classic is December 21, 2007. Entries must be received by or sent by express mail postmarked no later than midnight December 21. No late entries accepted due to the Calcutta programming. Entries processed in the order received. Musher starting times will be determined by draw at musher meeting. The entry fee is $65 per class. Junior class is free.

Teams entered are from Colorado, Idaho, Oregon, Utah, Montana, Wyoming, North Dakota, South Dakota and Washington. Locals racing include Barrie & Gary Turner, and Casey Boulter, from Pinedale, Kathy McKay from Daniel, Sharon Moreno from Big Piney, Frank & Stacey Teasely, and Justin Schmidt from Jackson.

Junior Mushers must be 12-years old or younger and still be a rookie racer. This race is a 3-dog maximum dog team, and has a limit of 10 entries. The race will be two to three miles. As of today, Junior mushers entered are from Lyman, Big Piney and Glenrock, Wyoming, and Minot, North Dakota.

The Baymont Inn (formerly the AmeriHost) is providing a block of rooms for the mushers at special rates.
The Calcutta money will go to support the efforts of the McKenzie Meningitis Foundation, a local charitable organization to help with meningitis vaccination awareness.

Additional Sponsors:
- The Baymont Inn (formerly the AmeriHost) for providing a block of rooms for the mushers at special rates.

- Patti Carpenter will be providing race photos for the website. Northern Exposure of Montana, www.patticarpenter.com.

- Electrical Dynamics, Inc will be BBQ-ing in the big tent.

- James Thomas of High Mountain Real Estate will be making sure our spectators can get to the race site via the shuttle bus. www.highmtn.com

- Randy Pitt is clearing the snow for the musher parking lot.

- Pinedale Online, for advertising the Race. Pinedale news, weather and fuel prices. www.pinedaleonline.com

- Thank you Tim Hunt for donating Momentum and Pursuit dog food. www.drtims.com

- Justin Ready is providing 30 bales of certified hay that is required by the Forest Service and will be available at the musher's meeting.

For more information contact:
Casey Boulter, PO Box 2231, Pinedale, WY 82941, (307) 276 - 4214
iditarod00@yahoo.com

Allan Berge, PO Box 992, Glenrock, WY 82637, (307) 436 - 7166
deercreeksleddogs@aol.com

Mindi Crabb, Tourism Director, Sublette County Joint Tourism Promotion Board, PO Box 176, Pinedale, WY 82941, 1-888-285-7282, director@mountainmancountry.com