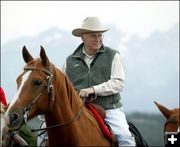 Vice President Dick Cheney

Vice President Dick Cheney horseback riding in Jackson Hole, Wyoming. White House file photo by David Bohrer.

VP Cheney has heart procedure
Electrical shock to restore normal heart rhythm
November 27, 2007
The Vice President visited his doctors at George Washington University Hospital Monday afternoon for evaluation and treatment of atrial fibrillation (an abnormal rhythm involving the upper chambers of the heart) which was discovered incidentally yesterday during examination for a lingering cough from a cold.

An electrical impulse was used to restore the upper chambers to normal rhythm. The procedure went smoothly and without complication. The Vice President returned home and resumed his normal schedule at the White House.

Mr. Cheney was born in Lincoln, Nebraska, in 1941 and grew up in Casper, Wyoming. He earned his bachelor's and master's of arts degrees from the University of Wyoming. His career in public service began in 1969 and currently serves as the 46th and current Vice President of the United States. He has served as White House Chief of Staff, as a member of the U.S. House of Representatives from Wyoming, and as Secretary of Defense.