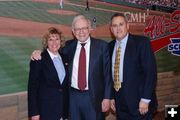 Mike Macey

Kathy Macey, Warren Buffet, and Mike Macey – Omaha, NE Builder's Show. Photo courtesy Sublette Community Partnership.


Mike Macey: Workforce Housing Issues Dec. 7
by Laurie Latta
November 26, 2007

Mike Macey, President of M-Powerment of Highlands, Colorado will provide a unique program to address workforce housing issues in impacted communities on Friday, December 7th at 10:00 a.m. at the Pinedale Town Hall.

He will be hosted by Laurie Latta and Jeffrey Jacquet of the Sublette Community Partnership through the Western Wyoming Workforce Solutions Group. The Solutions Group received funding from the Wyoming Workforce Development Council to provide regional solutions to housing issues, and workforce education.

Macey will present some simple but effective ideas to address the housing shortage. "Private enterprise will have to solve the problem with the cooperation of government and agencies such as economic development groups, chambers of commerce and local residents," he said.

His experience working on projects in Western Wyoming, has led to an understanding of the critical shortage of construction labor and the negative impact it has on delivering affordable housing to facilitate positive employment growth and retention.

"Without good housing, employee turn- over will continue to have a drain on the entire community including sub-par job performance and production from fast food services to energy," Macey stated.

Macey's M-Powerment Company works closely with national marketing groups representing thousands of real estate investors to pre-sell new projects while engaging governmental agencies, employers and developer/builders to meet critical housing needs. Investors, according to Macey are "eager to invest in Western Wyoming." Currently, Macey works with developer/builders in emerging markets to create and build work force housing and senior housing for active adults, and persons with disabilities.

Mr. Macey is a founding partner and active in business development for a mortgage bank branch of First National Mortgage Sources, LLC of Highlands Ranch, CO. Primary activities include financing of investor owner properties for workforce and senior housing. He is president of Designed West, Inc. a custom home building company located in the Midwest and is active in the Kansas City Home Builders' Association and the National Association of Home Builder's 50+ Housing Council

For more information on Macey's presentation, please contact Laurie Latta at mlatta@wyoming.com or 307-367-6747.