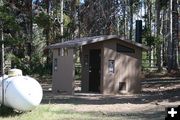 Snyder Basin Restroom

Current restroom facility at Snyder Basin Guard Station. Pinedale Online file photo from September, 2007.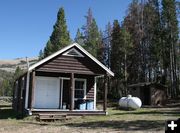 Snyder Basin

Snyder Basin Guard Station, left, and old restroom building, right. Pinedale Online file photo from September, 2007.


Donation Funds New Toilet on Bridger-Teton
Exxon Mobil donates $6,000 to help Forest visitors
by Bridger-Teton National Forest
November 29, 2007

(Big Piney) – The Big Piney Ranger District of the Bridger-Teton National Forest received a donation of $6000 towards the purchase and installation of a new Sweet Smelling Toilet (SST) at the Snyder Basin Guard Station from the Exxon Mobil Corporation this year. "There is nothing that is less glamorous, and yet nothing more needed when it comes to providing facilities to the visitors of the Bridger-Teton National Forest than toilets," said Big Piney District Ranger Greg Clark. "Such a fundamental staple carries a hefty price tag and is not something those wishing to donate funds tend to automatically think of putting there name on when they are looking for avenues to assist the Forest," he said. SSTs are waterless vault toilets that are engineered to exchange the foul air usually associated with portable toilets with fresh air from the outdoors, keeping the inside of the facility rather odor free. A typical purchase and installation of an SST unit ranges between $15,000 and $20,000.

The historic Snyder Basin Guard Station is available for public rental year round and has been recently remodeled. The SST vault toilet replaced the aged and more "traditional" pit toilet that was previously available for recreationists. "The Bridger-Teton is constantly looking for ways to improve customer service to Forest users and improve watershed health and the waterless SST vault toilets are a much needed piece in fulfilling that need," said Forest Supervisor Kniffy Hamilton. "I am grateful for the generosity of the Exxon Mobil Corporation in helping us finance the purchase of the SST and the overall improvement our visitors will enjoy as they visit Snyder Basin," she said.

The new toilet facilities installed on the Bridger-Teton not only employ the SST technology of better smelling air, but provide additional management perks as well. The new toilets, like the one at Snyder Basin, are typically graffiti resistant, aiding in an overall reduction in maintenance costs of the buildings. Additionally, each site that has a pit toilet replaced with an SST is compliant with the American's with Disabilities Act (ADA) improving the services for all visitors to the Forest.




Related Links