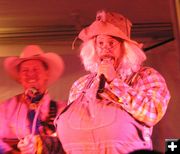 Bar J Granny

Photo by Bob Rule, KPIN 101.1 FM Pinedale Radio.

Bar J Wranglers
November 2, 2007
The Bar J Wranglers, a group from Jackson Hole, performed to a lively crowd Friday evening as part of the Grand Grand Opening for Rocky Mountain Bank.

"Granny" (aka band member Bryan Humphrey) made an appearance during the performance.
Local Cowboy Poet, Andy Nelson, entertained the crowd as the opening act.

The event was part of the week-long festivities hosted by Pinedale's newest bank.

Related Links