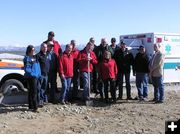 Industry and the Governor

Representatives from Shell, BP, Ultra and EnCana energy companies pose with Governor Freudenthal during the Sand Draw Rescue center open house last April. Pinedale Online file photo.

Sand Draw Rescue facility ready to roll
October 8, 2007
Sublette County Emergency Medical Services (EMS) announced that the Sand Draw Rescue facility (SDR) is now open and operational. "I am happy to announce, after much anticipation, the opening of the Sand Draw Rescue facility," said Wil Gay, Supervisor of the Sublette County EMS in Pinedale. The facility is located in the Sand Draw Industrial Park, near the intersection of US Highway 191 and 352, near the heart of the Pinedale Anticline and Jonah natural gas development fields.

"As of 8:00 AM on Monday, October 8th, 2007, this facility will be staffed 24-hours a day with a minimum of 2 EMS personnel, one of which will be a full-module EMT-Intermediate. We are hoping that through the support of volunteers and full-time medics on days off from their regular rotation that we will be able to staff it with three personnel," Gay said.

EnCana, Shell, Ultra and BP natural gas companies made generous contributions to the facility, as well as the Sublette County Commissioners. Chambers Design-Build was the general contractor for the construction of the building. "The facility is magnificent. Tony and Bonnie Chambers deserve a pat on the back for a job well done. A huge thank you to the gas companies, EnCana, Shell, Ultra and BP for their generous donations to the project and of course the County Commissioners for their contribution as well, and to Mary Lankford, County Clerk, for managing the funds for the project. To the Rural Health Care District for agreeing to provide the funds to staff this facility full-time," Guy said.

The ambulance is "98% ready" now, said Guy. They have purchased the extrication tool and it is on board. The extinguisher system is waiting for a couple of fittings before it is operational.

The new facility will reduce response times by 25-30 minutes to calls in its response area. This new center will cover the area from the Sublette County line on US Hwy 191 up to Boulder Highway 353, and from mile marker 15 on the Boulder highway for the southern part of the county. On State Highway 351, SDR will cover from the intersection of US 191 to mile marker 13.

Related Links