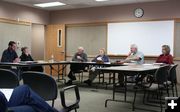 PAWG meeting

PAWG met on Thursday, September 26, 2007 at the Pinedale BLM office. L to R: Caleb Hiner (BLM), Betty Fear, Paul Hagenstein, Robin Smith, Cathy Purvis. Not present, Steve Duerr.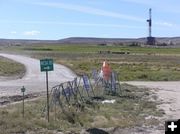 Mesa drill rigs

Drilling activity on the Pinedale Anticline. Pinedale Online file photo.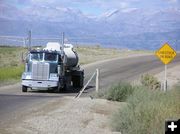 Big truck traffic

Increases in heavy truck traffic is one of the concerns in natural gas field activity on the Pinedale Anticline. Pinedale Online file photo.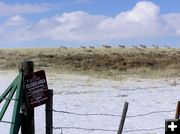 Wildlife Closure

Wildlife closures for big game winter range protection on the Mesa. Pinedale Online file photo.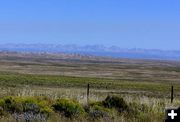 Brown haze over Mesa

Air quality in the Upper Green River Valley is a concern due to emissions from natural gas activity and dust from traffic. Pinedale Online file photo.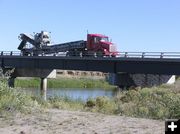 Water Quality

Water quality is a concern related to surface water runoff, ground water aquifer contamination and spills due to accidents. Pinedale Online file photo.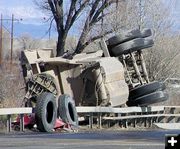 Accidents

Accident rates have increased due to increased traffic related to natural gas field activity.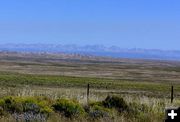 Brown Haze over the Mesa

Air quality is one of the issues that the natural gas development boom has brought to the Upper Green River Valley. Developers are working on "greener" methods of operation, while several entities monitor air quality. Pinedale Online file photo.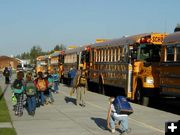 More school kids

The gas boom has resulted in more people moving to the county, and a need to build new schools. The BLM's stand is that socioeconomic impacts on the county and towns are beyond the scope of their responsibility. Pinedale Online file photo.


PAWG revitalizes
Pinedale Anticline Working Group meeting, Reporter's Notes
by Dawn Ballou, Pinedale Online!
October 6, 2007

The Pinedale Anticline Working Group (PAWG) met on Thursday, September 27, to decide their fate. After lengthy, very interesting discussions, and hearing from several members of some of the Task Groups, enthusiasm renewed and the decision was made to continue.

Five of six appointed members in attendance (3 seats unfilled and open for nominations): Betty Fear (representing Sublette County), Paul Hagenstein (representing the livestock industry), Nylla Kunard (representing the Town of Pinedale), Robin Smith (representing PAPA oil and gas operators), Cathy Purvis (representing environmental community). Not present: Steve Duerr (Member at Large). Representatives from several of the Task Groups were present and gave reports on their group activities. Other groups were represented by PAWG members who were aware of their activities. Pinedale Online was the only media present.

Highlights of the meeting were:

1. The BLM will continue the PAWG process whether or not people continue to participate, because it is required to do so by law. They will advertise positions, set meeting dates, and try to get public involvement, even if all the PAWG members quit and the Task Group volunteers decide not to help out anymore.

2. Some of the Task Groups have found ways to work around the BLM's legal limitation of dealing only with the Pinedale Anticline Program Area (PAPA) by going out on their own and working with Oil and Gas operators in the industry and other agencies to see some of their recommendations implemented. BLM PAWG coordinator, Caleb Hiner, told the group that the BLM is now "encouraging" the PAWG Task Groups to do this, and make whatever recommendations they feel are worthwhile to other entities that can help with getting things done on their topics of interest.

3. Everyone was pretty much in agreement that the PAWG process has brought diverse people with like interests/concerns together and allowed them to network and discuss ways to solve problems that the energy extraction industry is having on the resource values (land, wildlife, people and community) in Sublette County. Without the PAWG level of the process, the Task Groups cannot exist with their direct line of getting input to the BLM. PAWG members decided that if for no other reason, they should continue as a group just to allow the Task Groups to continue to exist and give their excellent input.

4. Task Group status:
Wildlife: Problematic. Has 3 members willing to participate.
Cultural: Hasn't met since they gave comments in March for the SEIS. Group is functional, but they have no direction. Still have people interested in participating.
Reclamation: Group is functional. Haven't met since submitted SEIS comments. Will meet this fall and submit new recommendations.
Air Quality: Experiencing problems with membership. Some members think PAWG won't continue. Do feel its of critical importance, so will continue to meet.
Water Quality: Up and running and has good participation. Just hired a consultant to continue hydrologic consultation on Anticline. Plan to continue to meet, with or without PAWG. Continue to compile data and meet. One operator is refusing to pay their share of the cost of monitoring. Other operators are picking up the slack. They are funding all the data gathering and operating expenses. The WQ Task Group has decided to test every water well on the Pinedale Anticline every year for hydrocarbons. There will be an annual report. Group is acting independently of PAWG in doing this. Operators volunteered to sample every well and are paying for it.
Socioeconomics: Dropped by PAWG. Picked up by Sublette Community Partners group. Still active under that incarnation.

5. The BLM will ask the Task Groups to come up with a list of places where they see that their recommendations have been implemented so they can do a media release on it in order to make the public aware of the actual progress that has been made of the PAWG process input. 5. The PAWG members decided they should exist if for no other reason that to ensure that the Task Groups continue to meet and do the good work that is coming out of their efforts.

6. It was noted that there is a need for baseline water quality data. Private landowners with wells are encouraged to get their wells tested and get baseline data of their water quality. It was noted that if there are detections of contamination, and DEQ is made aware of it, the landowner is responsible for the costs of the clean up. The landowner is not required to tell DEQ of the test results if they don't want to. If the government does the well test, and pays for it, the test results become public information and any contamination must be reported to DEQ, making the landowner liable when contamination is detected.

7. There are 3 empty PAWG member positions: Adjacent Landowner, Public at Large, and State Planner. The BLM is looking to fill those vacant positions. They are also welcome anyone who is interested in serving on any of the Task Groups. Must ask to be nominated. Cannot nominate themself. Fill out a lengthy form, go through a security background check, get appointed by the Secretary of the Interior.

8. Caleb Hiner, who has served as the BLM PAWG Coordinator, will be leaving after October to take on a new position in Idaho Falls, so a replacement will need to be appointed by the BLM to take his position. PAWG members expressed frustration over the high turn-over of people in the BLM working on PAWG, including the top spot Pinedale Field Manager position. The turnover results in discontinuity of decisions and makes it take longer to get things done.

9. The Pinedale BLM has a new field manager on board. Chuck Otto replaced Dennis Stenger, who is retiring. Otto reported for duty on July 22, 2007.

10. PAWG members expressed concern about whether or not the BLM management is really committed to PAWG and the Task Groups. At this meeting, only Caleb Hiner was present (in the hot seat) to represent the BLM to field questions from the PAWG members and Task Group members. New Pinedale Field Manager Otto was apparently in the building and was expected to pop in at some point during the 2-1/2 hour meeting to meet the PAWG group, however did not make an appearance before the meeting adjourned. (PAWG members are volunteers, some having put in years of their personal time into the PAWG process.) PAWG requests Otto be asked to attend the October meeting. All PAWG meetings are always open to the public and media as well.

11. Revised SEIS expected out November 2nd. Task Groups will see their recommendations implemented in it. This will be a full draft with all 3 alternatives, plus 2 new ones. The 2 new alternatives were developed through the input from the public. A preferred alternative hasn't been designated yet, but will be by November 2nd.

12. The next PAWG meeting is scheduled for Thursday, October 25, 2007, at noon at the Pinedale BLM. There will not be meetings held in November or December.

Discussion Notes:

- Discussion about whether PAWG is necessary as an organization anymore? Scope is limited to Pinedale Anticline. Too narrow focused. Might be better if PAWG reorganized as a different group so can give input on larger area and broader impacts.

- BLM advertisement in May soliciting for new PAWG members brought in only 3 responses. PAWG is down 3 members at the present time. The PAWG is composed of 9 members who reside in the State of Wyoming. The PAWG members are appointed by and serve at the pleasure of the Secretary of the Interior. Members to be selected to serve on the PAWG are as follows:
• One representative from the State of Wyoming Office of the Governor.
• One representative from the Town of Pinedale.
• One representative from the oil/gas operators active in the Pinedale Anticline area.
• One representative from statewide or local environmental groups.
• One representative from the landowners within or bordering the Pinedale Anticline area.
• One representative of livestock operators operating within or bordering the Pinedale Anticline area.
• Two members from the public-at-large.
• One representative from the Sublette County government.

- Constant staff changes at the BLM disrupt the continuity of the PAWG process.

- BLM will ask Betty Fear and Steve Duerr if they wish to continue with PAWG. Their terms expire in March 2008. "The BLM process is part of the problem, when it takes 7-8 months to appoint someone to a 2-year position."

- The PAWG charter expires in June 2008. Last time it took six months to renew the charter. PAWG members asked Hiner to pursue continuing the charter renewal.

- There was discussion about the cancellation of the June 2007 meeting. The BLM told the press that the meeting was cancelled because PAWG members were unable to attend. Paul Hagenstein pointed out that he wasn't even notified of a meeting or asked if he could attend. "If you're not contacted, you can't be said you can't attend."

- Discussion about PAWG members who appear to have waning interest in participating and what to do about their positions if they don't attend meetings anymore. PAWG members are appointed by the Secretary of the Interior, so the local group cannot unappoint people who no longer show up to meetings and have indicated they are disinterested or disenchanted with the process. There is no local process to "vote someone off the island".

- Discussion about pulling people off of Task Groups to serve on PAWG. People can be on one or the other, but not both. However, nothing says the PAWG members can't sit in on Task Group meetings and listen to them.

- Discussion about the need to "flaunt the successes". Nearly 100 recommendations were passed on to the BLM. Group wants to counter the not-so-positive media spin about what has been accomplished. Want to do a press release. Have Task Groups let PAWG know what has been accomplished in their particular areas.

- The new BLM Pinedale Anticline Record of Decision (ROD) will be out in the Spring of 2008.

- There was discussion and concern about how committed the BLM really is to the PAWG process.

Relevant Quotes:
"A lot of people feel like they are baying at the moon. If we aren't committed, it will die on the vine."
"There was a lot of energy and synergy around the P/AWG? when it first started up. A lot of people attended and the meetings were packed. But it's just gone downhill since then."
"I don't think we're interested in just going through the motions."
"The PAWG and task groups have been very effective as a sounding board for public input."
"We've had a ton of really good recommendations submitted to the BLM."
"I'd like to see it pick up steam and move forward. Without leadership from the BLM, it isn't going to happen."
"I'm not as concerned as much about the PAWG meetings as the task groups. That's where things get done, where the rubber meets the road."
"When something desperately needs to be done, it gets done. It's those relationships that strengthen and form a network that gets things done."
"We need a commitment from the BLM. Saying you want to see it, and committing to it, are two different things."
"The Anticline isn't the only issue here. It should be bigger."
"The BLM regulatory bureaucracy is what pulls the energy out of the process."
"The BLM from Day 1 has tried to control the process."
"It is important the PAWG effort go forward as it was chartered to do. Some others should go forward, like Socioeconomics."
"It can't function under this being jerked around thing."
"BLM's position keeps shifting. Do we have to advertise meetings? We did, until it wasn't convenient, then we didn't. That has a lot to do with who is in charge. Change out people and it changes the focus."
"In the past year we've had three supervisors for the BLM in this office."
"In the beginning, people were enthused. As time went on, the core elements of the task groups came to be. You ended up with a group where you could discuss the good, the bad and the ugly and collectively come to a decision."
"When people take the time to take on an endeavor that takes a lot of time and energy, because it is good for the community, there is a lot of frustration because you don't hear back (from the BLM)."
"A lot of people think we haven't accomplished anything, but we did. At least we got people talking and working together."
"Regarding wildlife and socioeconomics task groups, when you have that diverse of a body that comes together on a concensus on anything, that is huge."
-(Regarding the BLM disbanding groups) "Talk about slapping someone in the face."
"We should go forward. The Task Groups have been so good."
"We need some goals"
"The BLM's goal should be to renew those PAWG members."
"The fact people are going out and handling things is a good thing."
"The process is the reason people aren't doing this."
"These Task Groups should be commended for spending the hours and hours they have put into these things."
"Frustrating we can't bring things up because it isn't in the scope. All these Task Groups have these wonderful reports, and we couldn't respond to them."
"The process is important enough to keep doing it."
"If you guys say here we're willing to give this a shot, we (Task Group member) have the interest to move forward."
"PAWG exists to spread info to the BLM."
"Have the Task Groups continue to have discussions within their groups. Pass on to PAWG to give to the BLM."
"Task Groups have implemented a number of their recommendations. Have them answer 'Did you come up with recommendations outside the scope of the BLM?', Did you get them implemented?', 'How so?' "
"The discussion is the power I see in the groups."
"That's probably the biggest success to PAWG, is it got people together to talk about issues they didn't have a venue before."
"If you open it up that the Task Groups can make some recommendations to other entities, it would liven it up."
"No need to formalize (letting Task Groups know they can work with outside groups), it is already happening."
"If PAWG goes away, and the Task Groups decide to continue, what would be the venue to come to the BLM to present their info?" Answer: "They would address the BLM as members of the general public."
"We need to start some plan here instead of floundering. There sounds like there is unanimous concern to continue."
"The funcionality of this group is being looked at by other entities. This group is being looked at for adaptive management."
"We are trying to look at impacts county-wide and state-wide."
"We are going to try to inject some energy into the Task Groups and keep it going."
"If we commit to keeping with this for another year, we should give it a chance to build up its momentum and keep it going."
"No press release, nix it."
"Encourage Task Groups it's ok to talk and do what they are doing."
"It will allow expansion of discussions on these groups."
"There's a lot more brain power in these groups than just mitigation and monitoring."
"Pass the word."
"We encourage Task Groups to participate in meetings to discuss issues and passion as needed."
"Have the BLM write a letter to the State of Wyoming and ask for a PAWG representative nomination."
"Start the charter renewal process."
"Want to continue if this is the only way to get the Task Groups to the BLM."
"It the PAWG folds, the Task Groups fold."
"Is BLM supportive of PAWG?"

Caleb Hiner/BLM:
"On a local level, we are supportive of it."
"BLM is asking that the PAWG at least continue in a functional manner until the new ROD (Record of Decision) comes out."
"If PAWG continues as a functional group, it will likely continue in the ROD. If PAWG says they don't want to continue, that would be considered."
"It is written in the charter that the BLM will not take any action on any Task Group recommendation until it goes through the PAWG."
"The Charter expires every two years. We can arrange so the terms last longer than two years. The Charter has to expire, but members don't."
"If you guys show some resolve that you want to make some things work and set some goal dates, I think that would be very positive."
"BLM needs to say we aren't going to sanction (socioeconomic, water quality group efforts), but we aren't going to hinder it."
"If people feel like they got their recommendations implemented, it would help." (regarding press release)
"We do have some real successes."
"Just because we analyze it in an EA or an EIS, doesn't mean we have authority over it to mitigate or monitor." (regarding socioeconomics)
"It's ok if they go to other meetings as long as the needs of PAWG gets served."
"If you come up with a good idea, you're free to pursue it."
"Not 'you must kill all ideas outside of the BLM purvue'."
"BLM requires full concensus. Anything less is not what we're here to do."







Related Links