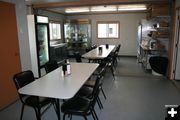 Concession Room

Concession area of the dining room-kitchen complex. Workers can grab anything they want from these coolers: sandwiches, drinks, fruit, chips, desserts, baked goods, all wrapped and ready to throw in a pack and go.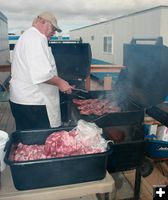 Steaks for dinner

Rollie, from Salem, Oregon, BBQs up steaks for dinner Wednesday night.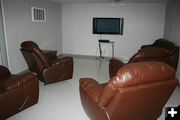 Lounge area with big screen TV

The recreation complex has rooms with comfortable chairs and couches, big-screen TVs, card tables, laundry room, internet room, meeting room and snack area.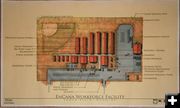 Proposed Jonah Mancamp

Artist rendering of the layout for the proposed EnCana Jonah Field Workforce Facility. The fenced compound will sit on approximately 20 acres adjacent to the southern end of the production area. A security station will monitor traffic in and out of the complex.


Inside tour of the Big Piney EnCana man-camp
Big Piney Ensign/EnCana worker camp
by Dawn Ballou, Pinedale Online!
October 18, 2007

EnCana Oil & Gas hosted a tour of their Big Piney worker camp facility for media and invited community members. The tour was in response to some public concerns about EnCana's request to the Bureau of Land Management (BLM) to construct and operate a 350-person worker camp just south of their natural gas operations in the Jonah Field.

The purpose of this tour was to give the media and invited community representatives a chance to see first-hand what these camp facilities are like on the inside.

The EnCana camp is operated by Ensign, a company which supplies the labor to EnCana for the drill rigs, flow back crews and frac operations for their natural gas drilling activities. The worker camp is currently located in the privately-operated Mountain Village Parks man-camp just south of Big Piney. The initial facility will be constructed by moving that part of their camp facilities out of Mountain Village Parks onto a 20.5 acre parcel of open sagebrush terrain on BLM-managed land under a special use lease permit. See the links below for more information about the controversy over this proposal.

The worker camp facilities are modular units that provide for the basic living, sleeping, dining and recreation needs of the employees. The buildings are built on skids which makes them portable and relatively easy to move from one location to another and quick to set back up again. They are designed to be moved and be able to interconnect so they can be arranged in a variety of ways on the ground. In order to make bigger internal space areas, several units can be attached together to make a larger open room, such as is needed for the dining room and kitchen area. The facility is staffed and operated 24-hours a day, 7-days a week. The facilities are drug- and alcohol-free environments with strict camp rules. Anyone breaking the rules, especially the ones for drugs and alcohol, are terminated from employment with the company.

Facilities include dorms, kitchen cafeteria area, recreation room with exercise equipment, lounge areas with big screen TVs, an internet room with computers and a printer (the whole complex also has wireless internet access), and laundry facilities.

The camp offers workers catered hot meals including hamburgers, chili, French fries, an extensive salad bar, and desserts (they were grilling steaks on an outside BBQ for a soon-to-arrive crew when we did the tour). Ensign contracts with Arctic Catering to run their food-service operations. In addition to the prepared meals hot off the grill, the dining room has multiple self-serve coolers around the room filled with pre-made sandwiches (beef, chicken, turkey, PPJ), enchiladas, burritos, hot wings, fresh fruit, chips, desserts & baked goods, juices, soft drinks, Gatorade, fruit drink pouches, regular and chocolate milk, and bottled water. Workers can grab as much or many of these they want. A sign taped to the cooler glass reads, "Take as much as you want, just eat what you take."

Workers who live in this camp work long hours, 12-hour/day rotating shifts, and long work weeks (7 days on/7 days off). They make from about $22 per hour on the lower pay scale end up to about $40-$50 per hour on the high end. Comments we heard from workers during the tour were all positive about life in the complex.

Proposed EnCana Jonah Field Workforce Facility
The proposed workforce facility (commonly called a "man-camp") will sit on approximately 20 acres just south of the Jonah Field. The camp will have dorm and sleeper buildings, a kitchen and dining area, and a rec center. The plan design includes space for an outside basketball court and baseball diamond or outdoor recreation area. The camp area will have a perimeter chain link fence, with a security guard check-in station at the main entrance. The camp will get drinking water from a potable water well near the site. Waste water and effluent will be treated in a treatment plant. Electricity will be provided by generators. No alcohol or illegal drugs will be allowed on the premises.

Public tour of EnCana Worker Camp on October 25th:
EnCana will be hosting a tour of this man-camp for the public on Thursday, October 25th. Transportation will be provided from Pinedale via Sublink Stage shuttle. Pinedale participants are asked to meet at the Sublette County Visitor Center at 11:00 AM. Big Piney participants meet at the mancamp at noon.

Directions to Big Piney Worker Camp: Drive two miles south of Big Piney on US 189 to the Mountain Village Parks camp on the east side of the highway (on the left if coming from Big Piney). After turning in, veer to the right and follow the parking lot driveway around to the left around the buildings. Park on the south side of the buildings, on the southwest side of the complex. You should be in the section with the white trailers with blue stripes on the buildings. Lunch will be provided in the second building complex in from the west, on the south end, in the dining room.

Please RSVP by Wednesday, October 24 to Paul Ulrich with EnCana at 307-260-6017 or paul.ulrich@encana.com

Photos by Dawn Ballou, Pinedale Online!




Related Links