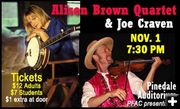 Brown Quartet-Craven concert

Concert Thursday, November 1, 2007, at 7:30 PM the Pinedale Auditorium. Pinedale Fine Arts Council presentation.


Alison Brown Quartet, Joe Craven, Nov. 1
Jazz, Bluegrass, Latin, Folk, Banjo concert
by Pinedale Fine Arts Council
October 20, 2007

The Pinedale Fine Arts Council is proud to present Grammy-nominated banjoist Alison Brown and her quartet performing live with special guest Joe Craven (fiddle) at the Pinedale Auditorium Nov. 1 at 7:30 pm.

The Alsion Brown Quartet offers up an astonishingly original instrumental sound that blends jazz, bluegrass, latin and folk music and takes the banjo far from its stereotyped hillbilly roots. According to Billboard Magazine: "Like James Taylor's voice or B.B. King's guitar, Alison Brown's banjo is an instrument possessed of a unique sonic signature and an inescapable beauty."

Tickets for the Nov. 1 performance are $12 for adults and $7 for students. Available at Rock Rabbit, Pony Express Photo, Office Outlets, the Cowboy Shop, Big Piney Library and at the door the evening of the event ($1 extra). Call 307-367-7322 for more info.