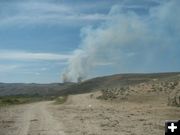 Tanner Fire from road

View of the Tanner Fire the day it started. It ignited north of South Piney Creek, east of North Mountain.


Snow dampens Tanner Fire
Fire near South Piney Creek is in patrol status
by Dawn Ballou, Pinedale Online! | Photos courtesy Kenna & Kim Tanner
September 25, 2007

Snowfall over the weekend helped firefighters working on the Tanner fire burning in the South Piney Creek area west of Big Piney. "Everyone has been released and the fire is in patrol status," said T.J. Hunt, Sublette County Fire Warden, on Monday. He said the fire isn't being called officially out just yet, since it could flare up again if things warm up and dry out before we get a season-ending snowstorm that puts it out for good. Firefighters will continue to check on it.

The fire began on Sunday, September 16th, east of North Mountain in the Wyoming Range. It is believed to have been started by lightning. It started on Bureau of Land Management (BLM) land, then moved on to private property. Firefighters from Big Piney, Daniel, Boulder, Pinedale, Bondurant and Kendall Volunteer fire departments responded to the blaze. Additional firefighters from the BLM and Bridger-Teton National Forest fire personnel also assisted.

Hunt said the area of the burn is dangerous for firefighters to work in due to hazard trees, weakened by the fire, can come down at any time without warning. "We call them 'widow makers'", he said. "They'll fall for no reason. You never know when those trees will come down." Some of the hazard trees still look green, but fire can creep through the duff under the surface and burn the roots, leaving the trees as standing dead and a huge safety hazard for firefighters working in the burn area.

"We want to say a special thanks to the homeowners in the area for their patience," said Hunt. The firefighters were short-staffed and running out of help. A lot of the volunteers were out on other fires or out hunting, so the firefighters who were available were stretched thin to work on this fire. "It was tough to find help. We had three guys on a 100-acre fire working both ends knocking down hot spots. We thank all the firefighters who helped with this fire," he said. "We also want to thank the employers who let the volunteers go out and help out."

Due to spotting, the fire was actually several separate fires burning with islands of unburned trees in-between, spreading it out and making it more of a challenge to fight. "We had four to five 10 to 20-acre fires burning at once," Hunt said.

Since most of the burn area is on private land, and behind a locked gate, the road into the burn area won't be accessible to hunters.

Hunt emphasized that even with this bit of snow, things are still dry in the woods and we could get more fires if things dry out again. "Please be careful with campfires," he cautioned. The Tanner fire is one of several fires from this summer that firefighters are monitoring until they are finally put out when we get snow that stays.

"It's been a long season," he said, noting that the volunteer firefighters are getting worn down. "I'm glad it's snowing!"
_____________________________
Special "Thank you!" to Kenna and Kim Tanner for sharing their photos of the fire. "We sat on the ridge to the north of the the ridge that actually caught fire. Still no definite cause, although as a reassurance, NO structures were burned, no wells burning," Kenna said. They got photos from the day of the fire, including great shots of helicopters and retardant slurry drops from two different planes. "Great help from many services (F.S., BLM, local volunteer depts., etc)" Other photos were taken six days later for a return for post-fire pictures. Hot spots occasionally flared up, creating more plumes of smoke.