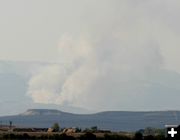 South Piney Ck Fire

View of the fire looking west from the parking lot at Midway Mall between Big Piney and Marbleton. Photo taken aroudn 3:00 PM on Sunday.



View from Big Piney

View looking west from the Midway Mall parking lot between Big Piney and Marbleton. The Big Piney twin water towers are on the left. US Hwy 189 is in the foreground. Marbleton is to the right. The fire is burning north of the South Piney Creek Road, east of North Mountain. Picture taken around 3:00 PM Sunday.


Fire in South Piney/Fish Creek area
by Pinedale Online!
September 16, 2007

Sunday, September 16, 1:00 PM Update: A fire is burning in the Fish Creek area of South Piney Creek, east of North Mountain. The smoke column is visible from the Big Piney area. Big Piney fire crews are on the scene and Fire and additional Sublette County fire and emergency crews from Daniel, Boulder and Pinedale are responding to assist. The fire size at the initial reports estimated it at around 50 acres, burning in brush. The fire was reported a little before noon today.

Very dry air remains over southern and central Wyoming today, with the forecast calling for strong gusty winds up to 40 mph, along with the possibility of isolated thunderstorms, showers and lightning. Fire danger is rated as Moderate on the Bridger-Teton National Forest.

More information will be posted about this fire as it comes available.

Photos by Dawn Ballou, Pinedale Online!