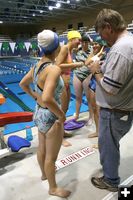 Getting Started

2006-07 Pinedale High School Coach of the Year, Bob Maxam, laughs with the girls before they jump into practice.


Pinedale High School Swim Team
by Pam McCulloch
August 20, 2007

"I'm glad we aren't practicing in Fremont Lake," Pinedale Swim Coach Bob Maxam commented on the completion of the Pinedale Aquatic Center competition pool. Fremont Lake was going to be one of the back-up plans if the pool wasn't ready to start practice this season.

The team will have their first swim meet on August 25th. Their first home meet is scheduled for September 20th.

As for the grand opening for the aquatic center, Head Life Guard, John Shenefelt, said it will probably be sometime in October. A good portion of the concrete in the leisure pool was just poured. The submarine is in place and crews are working hard to complete the project.

Photos by Pam McCulloch, Pinedale Online!






Related Links