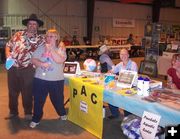 PAC Fair Booth

PAC Staff members Linda James and Christy Nicodemus enjoy visiting with prospective PAC Patrons Rob and Sonia Stone.

Pinedale Aquatic Center update
August 13, 2007
Here is the timeline for the next couple of weeks for the Pinedale Aquatic Center (PAC).

Ongoing: High School Girls' Team practice in the morning and afternoon in the Competition Pool.

August 16: Leisure Pool bottom will be poured.

August 25th: BREAKOUT! Swim Clinic. Cost is $50. 9am – 1pm. To sign up, contact Brian Gray---P.O. Box 1752, Pinedale or call 307-367-7066. Don't miss the opportunity to swim with and learn from Gold Medalists Josh Davis and Mark Gangloff!

__________________________

Representatives for the PAC attended the Sublette County Fair and had an information booth set up. They gave out PAC beach balls, water bottles, squirt guns and suckers. PAC also gave away approximately 300 Free Passes for the Aquatic Center. There will be a Grand Opening for the new facility sometime in October.

To stay informed of timeline updates, visit the Aquatic Center website at www.pinedaleaquatic.com or call the office at: 307-367-2832, or 307-367-2139, ext. 2832.