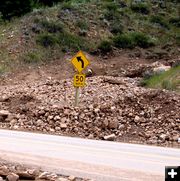 Mud and rocks

Mud and rocks crossed Hwy 191 in Hoback Canyon. One of the slides was four feet deep and 3000 feet across. Photo by Joy Ufford.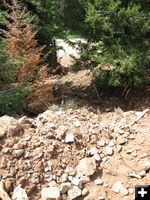 Down to the River

The slide dumped mud and rocks all the way down to the Hoback River. Photo by Joy Ufford.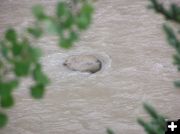 Muddy Water

On Saturday, the Hoback River was running muddy brown due to the slides on Friday. Photo by David Rule.

Mud Slides close Hoback Canyon
4 separate slides
Original story posted August 18, 2007 | Updated with photos August 20, 2007
Monday, August 20, 2007: Story updated with photos of the mud slides. Photos courtesy David Rule and Joy Ufford.

Saturday, August 18, 1:30 AM Update: Highway 191 is open again through Hoback Canyon north of Bondurant. (Much sooner than expected. Great job WYDOT road crews!!) The Sublette County Sheriff's Office is cautioning travellers that with four recently cleaned up mud slides in the Hoback Canyon, the road is extremely slick and still very muddy. Travellers should slow down and be very careful between mileposts 151 and 156 on US 191 in the canyon. (Thank you to the Sublette County Sheriff's Office and Bob Rule at KPIN 101.1 Pinedale radio for passing along this update at 1:30 AM.)

Friday, August 17, 10:00 PM Update from Sheriff Bardy Bardin: US 191 in the Hoback Canyon between Bondurant and Hoback Junction is still closed due to four large mudslides that occurred between 7:00 and 9:00 PM Friday evening.

One of the slides is described as being 100 yards wide (300 feet) and four feet high. These are four separate slides in a five mile stretch of road in Hoback Canyon. Three of the slides are in Sublette County. One is in Teton County.

The Wyoming Department of Transportation is using their Jackson crews to work on clearing the road from the north to the south of the canyon. No crews are working from the southern end. It is estimated that it will be at least 3:00 AM before the crews have the mud cleared and the road reopened in the canyon.

There is no information at this time about whether or not any vehicles were caught in any of the slides.

Thank you to Bob Rule, KPIN 101.1 FM Pinedale radio for contributing to this report. Updates on these slides can be heard at the top and bottom of the hour, tagged at the end of the weather report on KPIN.

Friday, August 17, 9:00 PM Update: The Sublette County Sheriff's Office (SCSO) is alerting the public to four separate mudslides that have closed the Hoback Canyon between Bondurant and Alpine Junction on US 191 north of Pinedale.

Thunderstorms are bringing heavy rain and intense lightning this evening. Three slides were reported around 7:45 PM. A fourth slide occurred between 8:30 and 9:00 PM. These are separate slides within a five mile stretch of US 191 in the canyon around the Granite Creek area between mile markers 151 and 156. The slides are in both Teton and Sublette County and crews from both counties are responding to work to clear the slides from both ends of the canyon. One of the slides on the southern end was described as at least 50 feet across and around three to four feet deep.

US 191 is closed until further notice. WYDOT crews estimate the road may be closed until 3:00 AM or later into Saturday morning.

According to Sublette County Sheriff Bardy Bardin, it may be at least six hours for highway crews to clean up the slides and reopen the road. It is still raining and the danger of more slides is still present.

Bob Rule, KPIN 101.1 FM Radio, contacted the National Weather Service in Riverton. They said our area has at least two more hours of thunderstorm activity that will bring periods of heavy rain and more intense lightning to the Hoback and Upper Green River Valley. As of 9:00 PM, the National Weather Service short-term forecast included Farson, Big Piney and Pinedale area with showers and thunderstorms along a line from Marbleton to Boulder expected to persist until at least 10:00 PM. Rainfall from 1/10 inch to ¼ inch is possible.

Updates are being broadcast on KPIN 101.1 FM Pinedale radio.

Photos by David Rule and Joy Ufford

Related Links:
National Weather Service, www.weather.gov