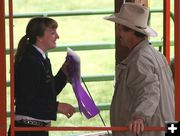 Erica David

Erica David celebrates her Grand Champion Swine win with dad, Matt. Entering about 30 animals in the Fair, Erica was also Grand Champion Round Robin Showman and the Premier Livestock Exhibitor.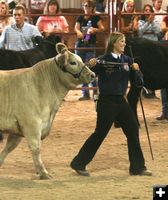 Tandy Petersen

As well as a Grand Champion Market Sheep, Tandy was Grand Champion in both beef and sheep Showmanship and Reserve Champion in Round Robin Showmanship.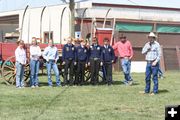 Champion Showmen

The grand and reserve champion for horse, swine, sheep and beef were invited to particpate in the Round Robin Showmanship. (l to r) Cassie Webb, Kailey Barlow, Jennifer Nessan, Andi James, Tandy Peterson, Erica David, Luke Johnston, and Cody Langlois.





Scroll Down for
More Pictures




Livestock - 2007 Fair Photo Gallery
2007 Sublette County Fair
by Pinedale Online!
August 6, 2007

Livestock exhibition is the heart of what the Sublette County Fair is all about. Exhibitors in the Fair are limited to Sublette County and School District No. 9 residents and youth enrolled in Sublette County 4-H and/or FFA programs, with the exceptions for Open Horse and Dog Shows. Any 4-H or FFA animal shown at the fair must be owned by a Sublette County or School District No. 9 resident and entered in that name. Junior classes in all departments are open to all exhibitors high school age and under.

Livestock entered in the Fair are not pets. Youth participating in these programs understand that the animals they have cared for and raised will ultimately be sold and end up as working animals or have the fate to end up on someone's dinner table.

There are livestock exhibit classes for horses, beef, sheep, swine, poultry, and rabbits. There are classes for Best All-Around, Champion and Showmanship. Judges award prizes for the overall appearance of the animal and there are also prizes for how well the youth did for "showmanship" in their presentation and control of the animal during the showing in front of the judge.

There are also classes to show dogs. Dogs do not have to be registered in AKC to compete in the open class. Dogs are judged on obedience, handling and conformation.

CATCH-A-CALF
The Catch-A-Calf program is sponsored by the Green River Valley Cattlemen's Association (GRVCA). Youth participating in the Catch-A-Calf program have obligated themselves to a two-year program. By entering in the Catch-A-Calf contest at the fair, they are competing to win a place in the program.

Not everyone who enters wins a place. It is a challenge and very rewarding program for those who choose to make the commitment. Participating youth are responsible for making sure their animal is well taken care of, has feed, water and appropriate shelter, gets timely vaccinations and doctoring, brand inspections, insurance, detailed records and all other care needs for the heifer to produce her calf, which ultimately is what the youth gets to finally keep as the reward for their participation in the program.

Each participant pays a $50 entry fee, which is refunded if they are not accepted into the program. If accepted, the entry fee is applied towards insuring the animal against loss during the two years of the program.

2007 Catch-A-Calf Donors were: Eastfork Livestock, Brad & Sandy Bousman, Mike & Tara Miller, Randy Bolgiano, and the Sommers Ranch.

ROUND ROBIN SHOWMANSHIP
The Round Robin Showmanship contest is an avenue for 4-H and FFA members to learn about other species of livestock. Each Round Robin Showman is judged not only on the fitting and showing of their own animals, but also on their abilities in showing other species of livestock. The showmanship contest is for beef, swine, horse, sheep and goats. The Grand and Reserve Champion Round Robin showmen are awarded jackets. They also receive monetary scholarships which they get in their second semester of college.

2007 WINNERS

4-H Youth Hall/Dog/Poultry/Rabbit results (261K PDF)
Sheep, Goat, Swine, Beef Results (32k PDF)
4-H Horse Results (322k PDF)
Open Horse Show Results (56k PDF)

Photos by Clint Gilchrist and Dawn Ballou, Pinedale Online!




Related Links