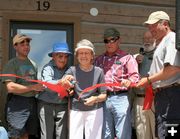 Ribbon Cutting Ceremony

Sunny and Fanny Korfanta cut the ribbon for the Grand Opening of the new Sublette County Visitor Center in Pinedale. The Korfantas sold the land to the county for the new visitor center.


Visitor Center Grand Opening
by Dawn Ballou, Pinedale Online!
July 1, 2007

The Sublette County Chamber of Commerce and Sublette County Joint Tourism Promotion Board held a Grand Opening for the new Visitor Center in Pinedale on Sunday.

Sunny Korfanta and his wife, Fanny, had the honors of cutting the ribbon during the Grand Opening Ceremony. Visitor Center architect/builder, Tony Chambers of Chambers Design-Build, is to the left of Sunny. Sublette County Commissioner Bill Cramer and Pinedale Mayor Steve Smith help hold the ribbon on the right. Tourism Board member John Godfrey is announcing.

The event also included the dedication of the new bronze statue, "Working the Line", which was donated by Lynn and Chopper Grassell. Bottoms Up Brewery catered the event and John Fogerty played live music.